Mr. Sanjit "Bunker" Roy - Barefoot College Creates Future for Rural India
By Taichung News Group, Formosa (Originally in Chinese) 2008.05.06
On May 6, Golden Year 5 (2008), members of The Supreme Master Ching Hai International Association, arrived in western India to present the Shining World Compassion Award to Mr. Sanjit "Bunker" Roy, founder of Barefoot College. About 500 local residents and members of Barefoot College attended the presentation ceremony with joy and gratitude.
Mr. Roy established the Social Work and Research Center, better known as Barefoot College, to help improve rural living conditions in Tilonia in the state of Rajasthan by providing villagers with potable water, electricity, housing, education, as well as health and medical aid. Since the 1980's, Barefoot College has taken care of power shortage for innumerable communities, by generating sustainable energy from the long daylight hours in the Rajasthani desert. This project attracted international attention and many foreigners arrived for onsite study for future reference. The College offers evening programs for children who are required to earn their livelihoods during the day. It emphasizes equality for all and gives priority to professional skills, allowing everyone a chance to be a teacher as well as a student. Those with specialized skills have the opportunity to share them with fellow students while acquiring knowledge in other fields.
On reading about the compassionate acts of Mr. Roy, Supreme Master Ching Hai promptly honored him with the Shining World Compassion Award for his selfless spirit in serving humankind and contributed US$5,000 to his noble endeavor. Although Mr. Roy was unable to accept the Award in person, about 500 locals, including teachers and students of Barefoot College, attended the ceremony. They expressed their sincere gratitude for God's grace and thanked Supreme Master Ching Hai for acknowledging their ideal and extending Her support. They look forward to sharing this love with more needy people.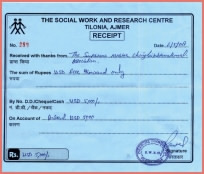 Receipt from Mr. Sanjit "Bunker" Roy for Master's contribution of US$5,000