Russia
Ms. Nina Kostsova - A Loving Mom to the Feline Friends
By Moscow News Group, Russia (Originally in English) 2008.04.10
Living in the hostile climate of Siberian winters, stray and feral animals normally don't have much of a chance for survival. However, Nina Kostsova, a woman with a big heart, has sheltered 136 feline friends in her modest two-room apartment since 15 years ago when she first adopted a homeless kitty. Nina has worked hard and used most of her income to keep the premises hygienic, the re-population under control, and just keeps the love "purring" in.
For her outstanding efforts to care for all the cats adopted, Supreme Master Ching Hai has given Nina the Shining World Compassion Award together with a much-needed financial contribution of US$3,000. There were also gifts and lots of vegetarian food for her live-in cat-guests.
In a thank-you letter to Master and our Association members on March 17, Nina expressed her deep appreciation and gratitude for the kind words and gifts for her "Cat House." In learning about the activities of our Association, Nina, a vegetarian herself, commented, "I completely support and share your spiritual values and cultural wealth." It was very evident that Ms. Kostsova's special kindness and love to all of God's creatures generates from her beautiful heart.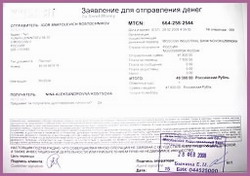 Receipt from Nina Kostsova for the US$3,000 contribution by Master