Aulac(Vietnam)
Dr. Đặng Cát - A "Medicine God" for the Poor
By LA News Group, USA (Original in English) 2008.04.08
Dr. Đặng Cát, born in 1936 in the countryside village of Hải Hậu, Nam Định province, Northern Âu Lạc, grew up with a family tradition of medicine. After joining the army, he received basic medical training and during wartime saved countless lives. In 1966, he was sent to the Army Medical School and after 10 years of service as the head of the military medical team of Sơn La armed police, he became Head of the Military Medical Corp of the Border Army Academy.
In 1989, Dr. Đặng Cát retired as a Lieutenant Colonel. Instead of enjoying a leisurely retirement as most people would do, Dr. Đặng dedicated 19 years of his retirement to treating the poor and the needy free of charge. Filled with saintly love, Dr. Đặng feels the pain and suffering of his patients as if it were his own. He said, "I have to use my medical skills to bring health to everyone, because making them healthy and happy makes me happy as well."
Over the years, through all kinds of road and weather conditions, Dr. Đặng has often been seen riding his rusty bicycle to every corner of Hà Nội providing medical care to patients. His plain small family home has become a "free clinic" for the poor and his reputation as a "Medicine God" has reached remote areas in the country, and even people living abroad.
Though Dr. Đặng provides care to an average of 15 to 20 patients daily, he never accepts any fees for his services. On the contrary, sometimes he uses his own pension money to buy medicine, fruit, sugar and milk to help people in extreme hardship. When asked why he does this, he said, "I don't know why. In the last 6 to 7 years while I was busy doing my work, many times I heard a voice echoing from somewhere telling me to be at peace; although you are not compensated by the earthly people, God will do so."
Theses prophetic words came true on the morning of April 8, Golden Year 5 (2008). Inside his small and cozy house in the capital city of Hà Nội, our Association members presented the Shining World Compassion Award to Dr. Đặng Cát on behalf of Supreme Master Ching Hai. In addition, a personal letter from Master, Her US$1,000 gift and several of Her publications were also presented. Deeply moved, Dr. Đặng respectfully wished Supreme Master Ching Hai good health in order to continue to set a leading example to the world with Her charitable movement. He felt highly honored to receive the award and promised to be even more dedicated to his work to better serve humanity. Finally, he extended his best wishes to our Association and Supreme Master Television to flourish more and have greater fruitful outcomes.
We hope that through Dr. Đặng Cát's example of loving compassion and kindness in serving others, many people will follow his footsteps of living a noble life to better serve humankind and make our world a better place.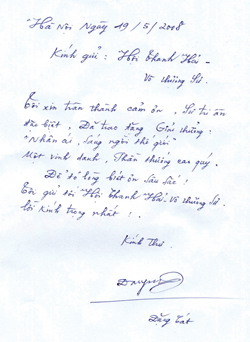 Thank-you letter from Dr. Đặng Ct
for the US$1,000 contribution by Master