Pakistan
Mr. Abdul Sattar Edhi - Mother Theresa of Karachi, Pakistan
By New York News Group, USA (Originally in English) 2007.12.19
Mr. Abdul Sattar Edhi is recognized by Pakistanis for his unwavering dedication and humble actions to assist anyone in need. Mr. Edhi cared for his infirm and mentally ill mother for eight years until she passed away. He then realized that there were millions of others ill, without resources or family to care for them, that needed his help. He and his family migrated to Pakistan from India and he became involved in charitable work. Although lacking much formal education, due to his sincere kindness and total devotion to humanitarian service, Mr. Edhi became known as the "Angel of Mercy."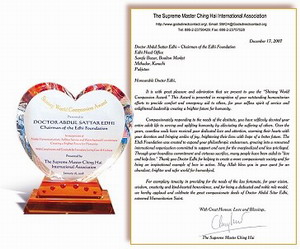 He has won many international Awards for his good deeds and has used the award money to expand his charity services. Eventually he formed his own welfare system called the Edhi Trust that delivers multi-faceted services to the sick and needy. He established the first emergency ambulance service and a maternity home in Karachi. With the driving force of Mr. Edhi's vision and dedication, his work has blossomed and grown internationally, giving aid to the needy regardless of race, creed or status.
Supreme Master Ching Hai honored Mr. Abdul Sattar Edhi with the Shining World Compassion Award. In addition to the Award, he also received a US$5,000 contribution from Master to support his noble service to humankind. The award ceremony took place in New York on December 19, Golden Year 4 (2007) while Mr. Edhi was visiting his Foundation's international office. During the ceremony, his interpreter read a speech on his behalf. Mr. Edhi thanked Allah for the guidance and for all the arrangements in his life. He expressed his longing for peace in the world, thanked Supreme Master Ching Hai for recognizing him, and stated that the money would be used for charity. Mr. Edhi also mentioned a homeless shelter in New York as one of his latest aspirations. Pakistani media, Digital Broadcast Networking, New York Awam: The Most Popular Pakistani Weekly, Geo TV USA, and Indus TV, also attended the event.
Mr. Abdul Sattar Edhi has been called the Mother Theresa of Karachi and has always been a shining example for those who know of his noble life and service. May Allah's almighty power continue to bless him and his noble work.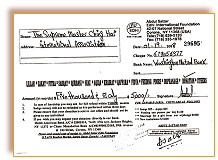 Receipt from Abdul Sattar Edhi International Foundation for the US$5,000 contributed by Master.