Formosa(Taiwan)
Mr. Hou Xiang-cheng and Mrs. Lin Mei-ling - Paragons of Love in Animal Protection
By Formosa News Group (Originally in Chinese) 2007.12.09
People in Formosa are paying increasing attention to animal protection. While groups have been formed to ensure the animals' well-being, many individuals are also doing their part to help stray animals. ( For related stories, please refer to No. 192 of our magazine.) In order to commend their noble endeavors, representatives of The Supreme Master Ching Hai International Association presented the World Compassion Award and a number of gifts, on behalf of Master, to some of these benevolent people in December of Golden Year 4 (2007). The honorable recipients were Mr. and Mrs. Hou Xiang-cheng, Mr. Li He-chuan and Ms. Huang Qiu-gui.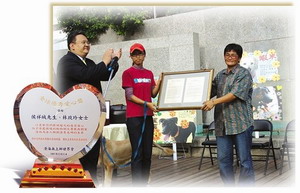 Mrs. Lin Mei-ling (right) and volunteer worker Miss You Shu-ting receive the commendation letter.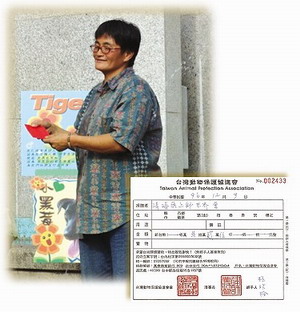 Mrs. Lin Mei-ling receives Master's contribution of US$10,000. The receipt is shown on the right.
Mr. Hou Xiang-cheng and his wife, Lin Mei-ling, of Salu Township, Taichung County, are committed to taking care of homeless animals. Two years ago, they established the Taiwan Animal Protection Association, hoping to bring more people together to rescue our often forgotten friends. Regarding the little animals as their own children, they sold their home and moved into a van to cover the huge expenses. However, their immense effort was not enough to resolve the issue of homeless dogs. Therefore, Mrs. Hou appealed to both the government and people to "give the dogs a loving home, replace killing with sterilization, and adopt instead of buying pets."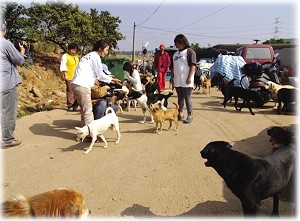 Lovely doggies in the pound warmly welcome the guests.
The Shining World Compassion Award ceremony was fittingly held on a Loving Adoption Day, which is held every Sunday afternoon at the Taiwan Animal Protection Association headquarters. An Award plaque and US$10,000 contributed by Master were presented to Mr. and Mrs. Hou. Having to take care of his dear doggies at the pound, Mr. Hou was unable to attend the ceremony, but requested a volunteer worker, Miss You Shu-ting, to accept on his behalf. With deep gratitude, Mrs. Hou said, "On behalf of my dear dogs who cannot speak, I would like to thank Supreme Master Ching Hai for Her immense love and timely help. Thank You very much for helping our dogs." The next day, she called our Association reminding us once again to convey the couple's gratitude to Master, for they could only repeatedly express their heartfelt appreciation.