Formosa(Taiwan)
Ms. Huang Qiu-gui - Paragons of Love in Animal Protection
By Formosa News Group (Originally in Chinese) 2007.12.12
People in Formosa are paying increasing attention to animal protection. While groups have been formed to ensure the animals' well-being, many individuals are also doing their part to help stray animals. ( For related stories, please refer to No. 192 of our magazine.) In order to commend their noble endeavors, representatives of The Supreme Master Ching Hai International Association presented the World Compassion Award and a number of gifts, on behalf of Master, to some of these benevolent people in December of Golden Year 4 (2007). The honorable recipients were Mr. and Mrs. Hou Xiang-cheng, Mr. Li He-chuan and Ms. Huang Qiu-gui.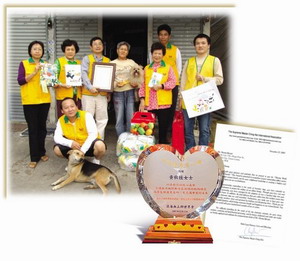 Ms. Huang Qiu-gui (4th from left in back row) with fellow initiates
Ms. Huang Qiu-gui has adopted over a hundred homeless dogs over the past 20 years in Sinying, Tainan County.
On behalf of Master, members from The Supreme Master Ching Hai International Association went to visit the 67-year-old Ms. Huang to present her with the Award plaque, Master's books and DVDs, a fruit basket and vegetarian dog food, to commend her selfless care for our beautiful animal friends. Ms. Huang said, "Dogs are the most loyal and understanding friends of humans. I think of them as my own children, spending each day in their company. Although it is an arduous task taking care of them, I have received abundant love from them in return." Ms. Huang's charitable action shows that even though an individual might have limited resources, we can still bring great benefit to sentient beings and set a shining example for the world if we do it wholeheartedly.