Formosa(Taiwan)
Field Relief Agency Chairman Yang Wei-ling Hopes to Do More than People Can See
By Taipei News Group (Originally in Chinese) 2007.12.11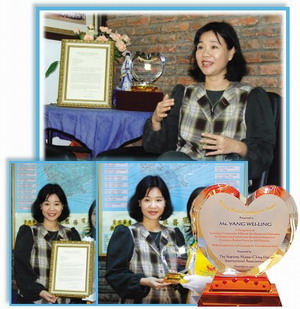 Miss Yang Wei-ling receiving the Shining World Compassion Award and the award letter.
On December 11, Golden Year 4 (2007), representatives of The Supreme Master Ching Hai International Association paid a visit to the Taipei office of the Field Relief Agency (FRA) of Taiwan to present the Shining World Compassion Award to its Chairman, Ms. Yang Wei-ling, on behalf of Master. The award was presented in recognition of her many years of compassionate effort to assist the suffering people in Cambodia. (For more details, please read "Embracing Refugees with Love—Yang Wei-ling, Daughter of Cambodia" in News No. 190.)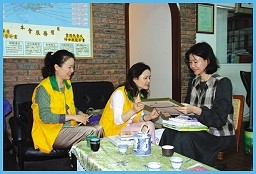 Miss Yang Wei-ling (right) is delighted to receive Master's publications.
In addition to the award plaque and Master's award letter, Miss Yang received a collection of Master's publications, SM Celestial Clothes, a tea set and other gifts. Miss Yang said that she is a Buddhist follower. When the Field Relief Agency was first established, financial resources were limited. However, their sincere actions to help people gained social acknowledgement and support from the Buddha, and as a result of that, all kinds of assistance poured in. While expressing deep gratitude to our Association, Miss Yang humbly said that she was only doing what she should do, but hoped that she could do more than what people could see. She said that this Shining World Compassion Award has given great encouragement and motivation to people engaged in relief endeavors. In return, Miss Yang gave each representative from our Association a copy of her book, On the Plain of Coconut Palms—Love and Care of the Field Relief Agency of Taiwan Transcends Boundaries.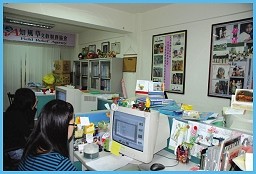 The Field Relief Agency of Taiwan
During the interview, we could see God's light shining brightly in the eyes of this kind lady, selflessly dedicated to relief work. We hope that all the true humanitarian workers in the world like Miss Yang will be blessed with God's infinite divine love, and their charitable deeds will become a beacon illuminating and guiding the world.