Ms. Duo Zi-rong - A Noble Paragon Practicing the Ideal of Equality of All Beings
By a fellow initiate in China (Originally in Chinese) 2007.12.09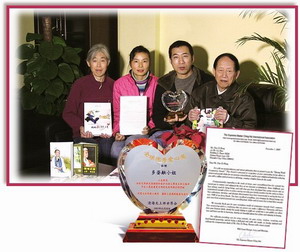 Miss Duo Zi-rong (second from left) and her family share the joy and encouragement of receiving the Award.
Miss Duo Zi-rong is a compassionate lady who has devoted her whole life to saving homeless animals. In the past 12 years, she has saved tens of thousands of them. To take care of these helpless animal friends, she and her family have sacrificed their immense savings, properties and time, and even had to tolerate malicious attacks. Nevertheless, they persisted without any regret or complaint. (Please refer to News Magazine No. 191 for detailed report.) To commend Miss Duo for setting such a noble example, on December 9, Golden Year 4 (2007), members from The Supreme Master Ching Hai International Association visited her home in the suburbs of Shanghai and presented her with the Shining World Compassion Award on behalf of Supreme Master Ching Hai. In addition to the Award, she was also given US$5,000 and some of Master's books and DVDs.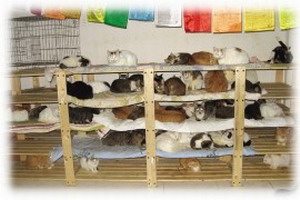 Miss Duo and her family respectfully and humbly received this Award, and expressed their sincere gratitude and reverence to Master. Miss Duo said that this Award had motivated her to put greater effort into animal protection. She hoped that one day the equality of all beings would be realized on this planet, just as Supreme Master Ching Hai had wished for. Their family would continue striving to achieve this goal. During their interview with Supreme Master Television, they appealed to the world to love and care for the animals, and hoped that the government would quickly enact and enforce animal protection laws and relevant moral codes. No matter what grave difficulties might stand in their way, Master's encouragement would help them to overcome and continue to fight for the right to life and equality for the animals.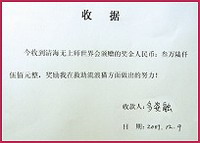 Receipt from Miss Duo Zi-rong for the US$5,000 contributed by Master
We thank Miss Duo and her family for their selfless dedication in loving and caring for the animals, and hope the world will follow their example so that all animals and humans can enjoy a beautiful life in this golden era together.



Letter of Appreciation from
Miss Duo Zi-rong
Venerated Supreme Master
Ching Hai,

We are extremely grateful to You for conferring this Award and US$5,000 prize on us. They are gifts of spirit and life from the Almighty Power.

We are deeply grateful to Master for bestowing on us Your divine blessing, and most important of all, Your loving concern and compassion towards the homeless animals. In the future, we will strive harder to save our helpless animal friends and help them to enjoy their deserved respect and dignity.

Therefore, on behalf of my whole family and the homeless animal friends, I would like to extend my deepest gratitude to Master Ching Hai for Your encouragement and loving concern. I sincerely hope that, eventually one day, equality for all beings will be realized on this planet, and this most fundamental, most just, and most necessary law and moral code will be put into practice. Our whole family will never stop to fight for this goal, as we regard it as the goal of our life.

Duo Zi-rong
December 9, 2007