Morocco
Ms. Hanane Abdelmouttalib - Heroine in the Land of a Thousand and One Nights
By brother initiate Philippe, Paris, France (Originally in French) 2006.09.13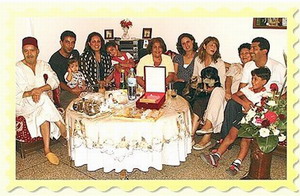 Hanane's family gathers for the award ceremony
On September 13, Golden Year 3 (2006), representatives of The Supreme Master Ching Hai International Association delivered to Ms. Hanane Abdelmouttalib of Casablanca, Morocco, the Compassion Award, in honor of her work to aid stray animals. Further, we went there to produce a brief film journal of her life's work.
The Abdelmouttalib family demonstrated the brotherly love of Muslim communities, where a stranger is welcomed with extreme deference. We had come to honor a queen of compassion, yet we found ourselves treated like kings.
Hanane's parents were open to the teachings of Master. In fact, after our arrival, Mr. Abdelmouttalib immediately had a technician establish a satellite connection to receive the SMTV channel.
Friday night, the holy day for Muslims, Mr. Abdelmouttalib went to his room to pray. Several hours later he returned full of enthusiasm and exclaimed, "I was with Allah. I have seen your Master on the television set in my room. The teachings of Supreme Master Ching Hai are the same as those of the Koran. Yes, they are the same! Plus, in the Koran it is said, several times, that it is necessary to respect animals. " Mr. Abdelmouttalib proceeded to ask questions about Master's teachings. He finished by declaring, "Me too: I would like to be a vegetarian!"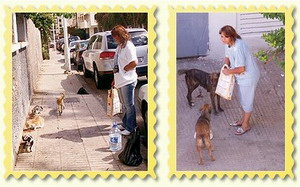 Hanane feeding street animals
Throughout our stay we had the privilege of following Hanane and observing how she helped the stray animals with a compassion that was without limit or condition. We learned much from Hanane as her love for animals went far beyond anything we could have imagined. She treated our four-footed friends as though they were her children and has been known to sell her own clothing in order to have money to buy food for them.
The objective of our film was to show the daily accomplishments of this humanitarian awardee, who traverses the streets of her neighbourhood each morning with a sack of food for the animals in one hand and a container of water in the other. Later, after making certain that all of the animals known to her have been fed and given water, she travels to the veterinarian to assist in other urgent projects.
Casablanca is overflowing with stray cats and dogs badly in need of vaccinations because rabies is still widespread in this region. Aided by vaccines furnished by the authorities and a representative from the Ministry of Health, Hanane scurries through the streets and the neighborhoods where she knows that she will find animals that need to be vaccinated.
Caring for a cat hit by a car
Raising awareness about the magnitude of these problems is also her obligation. She teaches the inhabitants of various neighborhoods how to react to wounded or sick animals in a nearby school that allows her to use their facility to pass on her knowledge. Her work is without end, as is her lifelong commitment.
For these noble actions, Master Ching Hai has presented the "Compassion Award" to Ms. Hanane Abdelmouttalib. It is a magnificent, engraved circular plaque of cut crystal, set up on a golden pedestal and decorated with seven red hearts. This prize is an aesthetic marvel and is symbolic of God's compassion. Our Master also offered the sum of US$10,000 to help Hanane with her tasks so that she can more comfortably nourish and care for the animals.
The award ceremony took place on September 17. It was a particularly moving moment. During the course of the ceremony, we presented two books to Hanane's parents: the Arabic translation of "I Have Come to Take You Home," as well as Master Ching Hai's illustrated book in French, "God Takes Care of Everything." Mr. and Mrs. Abdelmouttalib accepted these gifts joyously and thanked our Master.
Upon our departure, we left our friends and our heroine knowing that something extraordinary had happened in this land of "A Thousand and One Nights." God demonstrated to us that everything in the world is a part of Hirm. Even for the humblest amongst us, God is ever-present.
Master's comment: I thank her, her family and other golden hearts for their love for the helpless animals. ♥


A family who loves animals dearly

Hanane and her father

Hanane's mother

Mother, when younger

Hanane's sister