Ms. Paula Clermont-Péan - A Dedicated Advocator of Culture and Peace
By Florida News Group, USA (Originally in English) 2008.05.18
Born in Haiti, Ms. Paula Clermont-Péan spent 16 years studying in France and the United States. After returning to her home, Ms. Clermont-Péan dedicated her work towards helping the women and young people of Haiti. She said, "I want to create a place to dream, to open up the windows to the future, to nourish hope, and spread the wings of regeneration." Her relentless work to spread peace through the arts and to preserve and develop the unique cultural identity of Haiti has inspired thousands of young people to join theater, song, dance and socio-cultural animation groups.
As an actress, accomplished writer, professor of literature and theater, as well as a 2005 Nobel Peace Prize nominee, Ms. Clermont-Péan is also the founder and director of Pyepoudre Cultural Center. The Haitian word Pyepoudre means "dusty feet," referring to wandering travelers walking on the dusty roads. Since 1989, this non-profit organization, affiliated with the World Federation of UNESCO Clubs, Centres and Associations (WFUCA), has been a center for animation, training courses and public readings, promoting popular culture and trying to build a network for the association of young people who come from both urban and rural settings to meet with each other and to communicate with older artists. They learn and participate in various forms of art, and have presented numerous artistic performances for many different audiences.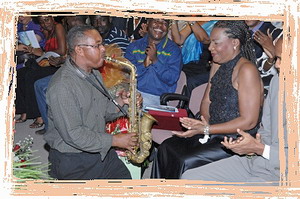 For her dedication and priceless contribution towards culture promotion, Supreme Master Ching Hai honored Ms. Clermont-Péan with the Shining World Leadership Award. On May 18, Golden Year 5 (2008), our Association members flew to Haiti to present the Award and were warmly received by Ms. Clermont-Péan and her assistants. In a restaurant in downtown Port-au-Prince, Ms. Clermont-Péan, a soft-spoken and kindhearted woman, enthusiastically fielded all questions from the interviewer in French. She shared her insights and experiences about Haiti upon her return as she strived to instill a notion of promoting peace through artistic expressions into the young Haitians.
Hundreds of guests came to the Fondation Connaissance et Liberté (FOKAL) that night to attend the Award ceremony, and each one was greeted by the initiates. A representative from our Association read Master's personal letter to Ms. Péan commending her work, great contributions to the country of Haiti and to world peace. Ms. Clermont-Péan was moved to tears after speaking a few words of acknowledgement for the Award and thanking Supreme Master Ching Hai and Her representatives. The atmosphere of excitement in the auditorium was suddenly brought to a complete halt, and then a thunderous standing ovation exploded - a touching moment that brought tears to many in the audience. This extraordinary lady was also presented with a US$5,000 contribution from Master and a gift bag containing Master's publications. The program continued with magnificent performances by different local artists. The initiates sincerely thanked Ms. Clermont-Péan and everyone in her staff and other organizations for their loving support and hospitality to make the Award ceremony a successful and memorable one.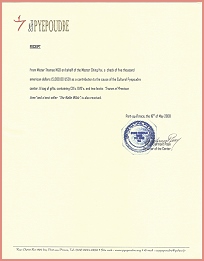 Receipt from Ms. Clermont-Pan for the US$5,000 contributed by Master.