Australia
Mr. Julian Shaw - Heroic Teenager's Quick Thinking Saves Man
By Sydney News Group (Originally in English)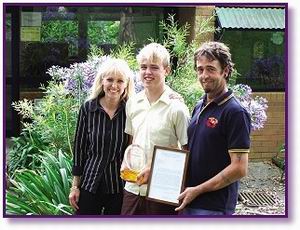 Julian Shaw (middle) with his parents Mr. and Mrs. Shaw
On Tuesday, December 11, Golden Year 4 (2007), our Association members from Sydney, Australia went to Lisarow High School to present a Shining World Hero Award to student Julian Shaw in recognition of his brave and selfless actions in saving a stranger's life at a train station. The Award was presented in front of his entire school assembly and the Assistant Regional Director from the NSW Department of Education, Ms. Maree Roberts.
On October 19, Julian was waiting for his late train after school, when he witnessed a man fall onto the train tracks. He immediately jumped onto the tracks to help him. At that moment, a train was approaching the station, putting them both in grave danger. In desperation, Julian applied knowledge he had learnt from the television program "Mythbusters" by pulling the man to the edge of the track underneath the platform and holding onto him while the train rushed by, thus avoiding a possible tragedy.
The man he saved was Mr. O'Dwyer, who suffers from a medical condition that caused him to faint and fall. It is a miracle that Julian's train was late that day and allowed him to help Mr. O'Dwyer. Furthermore, Mr. O'Dwyer is a man of 6'2" (187cm) in height and 242 pounds (110kg) in weight; whereas Julian is about 5'11" (180cm) tall and weighs 154 pounds (70kg). The fact that Julian was able to save a man much bigger than himself is truly remarkable and inspiring.
At the award presentation, Julian was presented with the Shining World Hero Award plaque, a thank-you letter, a check for US$1,000 from Supreme Master Ching Hai, Her publications and chocolates. Julian humbly accepted these gifts and was very appreciative that Master acknowledged his actions.
Our Association members also gave the principal of the school, Mr. Jeff Bromage, three copies of the book The Birds in My Life and two copies of The Dogs in My Life as a contribution to the school library, which were gratefully accepted. Mr. Bromage commended Master and Her representatives for acknowledging the good deeds of young people and inspiring others to follow good examples in society. He said there should be more positive reports on the youth and was very happy to hear that such an uplifting channel as Supreme Master Television existed. He invited fellow initiates back to the school in the future to report on the charity work of his students.
Several media representatives were also in attendance at the award ceremony, including "Sunrise," a popular morning TV talk show program. The day after the presentation, Julian was invited to "Sunrise" for an interview, in which he proudly displayed the award plaque and letter from Master. Congratulations, Julian Shaw, on your Shining World Hero Award. Your selfless actions are an inspiration to us all.