Mexico
Mr. Manuel Jesus Cordoba Soberanes - Love Knows No Boundaries
By Texcoco News Group, Mexico (Originally in Spanish) 2007.12.29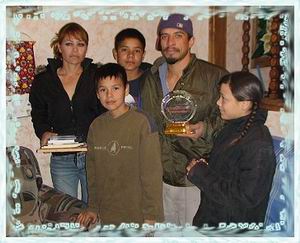 Manuel Jesus and his family
Mr. Manuel Jesus Cordoba Soberanes, a father of seven children, was recently recognized by Mexican and American authorities for rescuing a nine-year-old American boy, Christopher Buchleitner, who lost his mother in a car accident.
On November 22, Golden Year 4 (2007), the 26-year-old Manuel Jesus was traveling from Magdalena de Kino, a north Mexican city about 80 km from the US border, to the United States as an illegal immigrant, when he found the boy on a rural road near Peña Blanca Lake. Unable to save the boy's mother trapped in the vehicle, he sacrificed his journey to give the child care and shelter during the cold winter night. Despite knowing that he would be sent back to Mexico, Manuel Jesus stayed by Christopher's side until authorities arrived.
His selfless act of kindness led the representative of the 7th District of Arizona to propose to the US Congress to grant him a working visa in the United States.
On December 29, members from The Supreme Master Ching Hai International Association presented Mr. Cordoba with the Shining World Hero Award. When Master's loving letter was read to him, his face shone with peace and joy. His family thanked Master Ching Hai for the Award, and were delighted to also receive US$1,000 and several of Master's books. Recalling that night, Manuel Jes²s said, "When I saw the child up there and he was hurt and cold, I thought of my children."
We thank Mr Cordoba for his compassion and selfless action. May heavenly blessings shower upon him and his family. We wish him abundant love from God, just like the love he gave to a small boy that wintry night.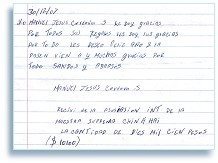 Thank-you letter from Mr. Manuel Jesus for the US$1,000 awarded by Master.