Mr. Apa Sherpa: Hero of the Nepalese Children
By Supreme Master Television News Correspondent in San Jose, USA (Originally in English) 2007.10.12
On October 12, Golden Year 4 (2007), members of the San Jose Supreme Master TV crew met with Apa Sherpa, one of the greatest living mountaineers and holder of the Guinness World record for the highest number of climbs to Mount Everest (the highest mountain on Earth at 8,848 meters or 29,028 feet). The crew officially presented him with the Shining World Leadership Award in recognition of his outstanding philanthropic efforts to provide education for sherpa children in remote areas of Nepal, his birthplace. Supreme Master Ching Hai also generously contributed US$5000 to acknowledge his noble efforts in helping Nepalese children.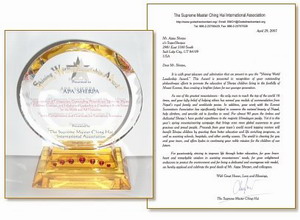 In the highest villages of Nepal, the availability of schools is very limited and children there have to walk 3 hours in harsh climatic conditions to reach make shift schools (with no chairs, tables or books) and another 3 hours to get back home. Apa Sherpa was overjoyed with the possibilities this contribution would provide to the children because in Nepal, $5000 goes a very long way. He mentioned several times, that without access to education there is no choice or opportunity of improvement for these children.
Apa Sherpa is truly an example for others to follow. Because of the lack of schools in his village, he never even completed primary school, yet he was able to rise above his circumstances and become a legend. His contribution doesn't stop at mountain climbing world records or helping provide better education for Nepalese children, he also actively works on conserving the natural beauty of Nepal and strives to bring attention to the importance and harsh living conditions of sherpas. We wish Apa Sherpa many blessings and success on his school project and other ongoing initiatives.
*Note: Sherpas carry equipment, make sure the path is safe, and save climbers in dangerous situations. No mountaineer has ever climbed Mount Everest without the help of several sherpas.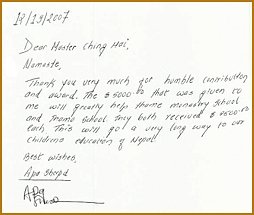 Mr. Apa Sherpa's letter of appreciation in receipt of Master's contribution of US$5,000.