Mr. Fang Ming-he - The Green Eyes of China that Care about Animals and the Environment
By Hong Kong News Group (Originally in Chinese) 2007.07.30
On July 30, Golden Year 4 (2007), representatives from The Supreme Master Ching Hai International Association presented the Shining World Leadership Award and US$5,000 to Mr. Fang Ming-he, the founder of an environmental protection organization called Green Eyes, in appreciation of his noble, compassionate and generous endeavors in conserving our planet.
As the only son in his family, Fang Ming-he spent his childhood in the company of animals. Even when he was still in secondary school, his compassion had already developed to such an extent that he couldn't bear to see the animals around him being tortured and slain. Because of that, he often got into arguments with the animal vendors in the markets. He even secretly followed illegal hunters and reported them to the police. Worried by his daring actions, his elder family members suggested that he establish a formal organization to pursue animal protection. Therefore, in 2000, while still in high school at the young age of seventeen, he founded Green Eyes.

Mr. Fang Ming-he being interviewed by Supreme Master Television, and receiving some of Master's spiritual books as gifts.
At first, Green Eyes had only twelve members, and was mainly engaged in saving animals and reporting illegal hunting in the Wen Zhou area. The group has now developed into a mature non-profit environmental protection organization with nearly 3,000 members all over the country. Green Eyes pursues four chief objectives: 1. Promoting environmental education through giving lectures in schools, convening educational camps, and appealing to young volunteer workers to promote environmental protection. 2. Promoting animal protection by teaching young people to respect life and refrain from abusing or killing animals. 3. Promoting nature conservation by cooperating with local governments and environmental protection organizations to conserve the natural environment such as rivers and jungles. 4. Promoting public benefit by conducting disaster relief, and caring for underprivileged people in society.
Fang Ming-he thinks that to advocate environmental protection in China, the first step is to protect the "spiritual environment". People must first understand that they do not live in this world solely for material gain, but to live a meaningful life honoring humane values. When people apply their values to life, they will consider adopting an environmentally sound lifestyle. Fang thinks that education in childhood can have long lasting effects. Therefore, Green Eyes is working hard to sow the seeds of environmental protection on school campuses.
Fang also thinks that because China's economy is growing rapidly, the country will inevitably pay a price in environmental impact--just like the western countries. However, by learning from the experiences of foreign countries, China should be able to introduce the most advanced ecological technologies into the country, and try its best to avoid making the same mistakes. Therefore, Fang is optimistic about China's environmental future.
From our conversation with Mr. Fang, we felt that he has a clear goal, great enthusiasm, and a high ideal in his environmental protection work. His wisdom was apparent in the way he advocates environmental protection. We hope that the Shining World Leadership Award will encourage Mr. Fang to continue making more outstanding contributions to environmental protection through Green Eyes.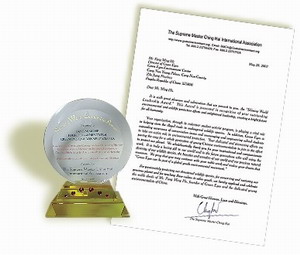 Mr. Fang Ming-he (right) receiving the Shining World Leadership Award and US$5,000.