Formosa(Taiwan)
Mr. Lin Bo-Chun - A Car Wash Owner's Loving Commitment in Helping Problem Youngsters
By Hsinchu News Group, Formosa (Originally in Chinese) 2007.08.02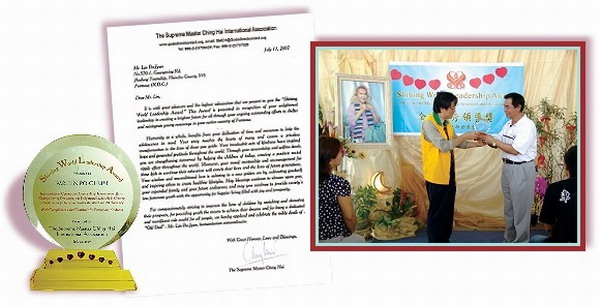 Mr. Lin Bo-Chun, the owner of a car-wash in Zhudong Township, Hsinchu County, Formosa, noticed that many children from aboriginal families have stopped going to school due to financial difficulties, or have fled from home due to problems of being raised by their grandparents. Mr. Lin felt very sorry seeing these children abandoned by society and wandering on the streets. So he started to help them. After conducting a survey among many households by asking questions, he gathered a group of problem youngsters who were seen as troublemakers by their families. Apart from providing them with food and a place to stay, Mr. Lin also took them to school every day, taught them techniques in car-washing, and paid them wages. In eight years, many young people who were previously abandoned by society have benefited from his loving edification. Not only did they complete their studies, but also attained self esteem and a sense of achievement from their work. In commending Mr. Lin's love and care towards the young people, on August 4, Golden Year 4 (2007), members from The Supreme Master Ching Hai International Association presented the Shining World Leadership Award to him on behalf of Supreme Master Ching Hai. It is a symbol of appreciation from everyone in society for his endeavours in caring for these young persons in desperate need.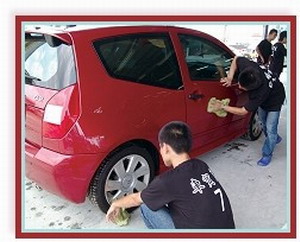 Young people washing cars
When receiving the Award, Mr. Lin Bo-Chun expressed his gratitude to Supreme Master Ching Hai and humbly said: "I am merely doing my part as a member of society Actually, the kids have done nothing wrong. The problem is that the adults in society have never positively acknowledged these youngsters. We must not casually abandon them. Human beings are not saints, and everyone is bound to err sometimes. Don't put them in jail for three years just for any minor offence. Instead, why not give them a good job, thus allowing them to prove themselves I hope that the conscientious people of our society will extend greater care to these young people, by giving them opportunities and acknowledgement, and helping them restore their confidence!"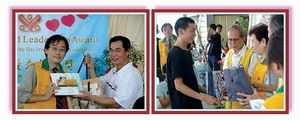 Presenting gifts to Mr. Lin Bo-Chun and his young friends.
When asked about the method of educating this group of youngsters, Mr. Lin said: "First we should try to understand and love them, only then do we have the right to discipline and educate them. At the same time, we should find out what their problems are, and what they want deep in their heart. Only then would they begin to accept my counsel." He further emphasized that the most important thing is to establish mutual trust through honestly accepting them and loving them.
On the day of the Award presentation, at Mr. Lin's car-wash, our Hsinchu Centre arranged a series of activities, such as viewing the Supreme Master Television programs, presenting gifts to Mr. Lin and the young workers of the car-wash. The gifts included Master's lecture DVDs and painting albums, Alternative Living document folders, blessed food, News magazines, pens printed with the URL of the Supreme Master Television web site. The presentation ceremony was followed by a sumptuous and heart warming vegetarian feast.
It is our hope that more people would learn from Mr. Lin Bo-Chun's example and join hands in helping young people in society who are deprived of love and concern.
| | | |
| --- | --- | --- |
| | | |
| | | |
| | Mr. Lin Bo-Chun, his family and his young friends with fellow initiates. | |