Mr. Chen Fei - A Farmer Devoted to Environmental Conservation
By Hong Kong News Group (Originally in Chinese) 2007.07.12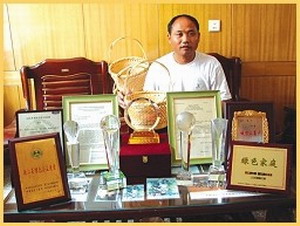 Mr. Chen Fei has received countless awards for his environmental efforts.
As environmental conservation efforts are underway to save the planet, some people are showing their silent dedication to protecting the river, mountains and our Mother land through concrete action.
Chen Fei is a farmer in Wenzhou, a city in China's Zhejiang Province. In 2000, Mr. Chen suddenly noticed that the scenic landscape of his hometown was covered with plastic shopping bags abandoned after use. He found out that these plastic bags were indecomposable and would pollute the soil. Making it his mission, he took a series of actions in the interests of all. He used moso bambooeasily and abundantly available in southern Chinato make baskets, which he set as an example for others by having his family shop with them. He then went to the marketplace and gave away the baskets for free. Explaining that the toxic pollution of plastic bags could adversely impact the environment, he persuaded the local people to minimize their use.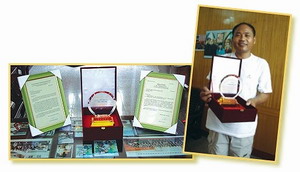 But he could only do so much by himself. In order to weave more baskets for more people, he generously spent his own money to buy materials and hire workers to do the work. He traveled to dozens of cities throughout China, giving away bamboo baskets for free. For an ordinary farmer, that was an enormous expense. Fortunately, he had full support from his family, and his children also funded his undertaking of love with their hard-earned money.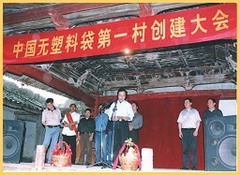 The first Chinese village free of plastic bags celebrates its inauguration.
Chen Fei's selfless actions of compassion touched people's hearts and were widely recognized. To date, he has received over fifty awards. He was named one of the "ten most outstanding environmentalists of China" at the Great Hall of the People in Beijing. He also received the 2006 Planet Earth Award from the State Environmental Protection Administration of China. At every award presentation ceremony, Chen brought bamboo baskets for the government leaders, hoping that they would take the lead in using the baskets and influence the people. Chen Fei is now an icon of environmental protection. Under his influence, the water in his hometown has become clearer and the mountains greener. The once prevailing "white trash" is now a rare sight. Under his motivation, his hometown has become the first Chinese village to be free of plastic bags.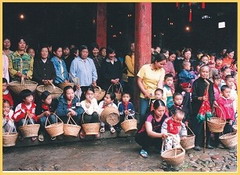 The villagers' bamboo baskets represent Chen Fei's love
and devotion in protecting the environment.
To commend Chen Fei for his endeavor of love, on July 12, Golden Year 4 (2007), members of The Supreme Master Ching Hai International Association, on behalf of Supreme Master Ching Hai, presented him with the World Leadership Award and prize money of RMB15,000 (US$2,000). Hopefully such support and encouragement will inspire him to continue to realize his noble ideal. In his letter of appreciation, Mr. Chen Fei said: "This is an obligation for me, as a citizen of the Earth I want to thank The Supreme Master Ching Hai International Association for its encouragement and support. I will continue steadfastly to promote environmental protection. However, what I can accomplish alone is limited. Hopefully more people will join in the endeavor to protect our planet on which our life depends."
We pray that all people will follow in the footsteps of Mr. Chen Fei to protect the environment and make our homestead on Earth a more beautiful one!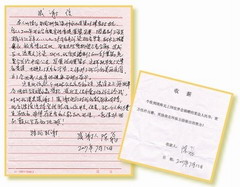 Mr. Chen Fei's letter of appreciation and his receipt
for RMB$15,000 from Supreme Master Ching Hai.