World Wide Fund for Nature
2007.02.05
World Wide Fund for Nature (WWF) is a worldwide network, aiming to build a future in which humans can live in harmony with nature. In January, Golden Year 3 (2006), a leading Belgium newspaper, Le Soir, reported that 10,000 Belgium citizens had pledged to eat less meat. They had responded to a flyer from the WWF that had listed some simple facts about lifestyle choices on the environment, with one of the top three choices being eating less meat. Their persistent and comprehensive work is helping to make the world a better place for all sentient beings as well as rescuing the environment.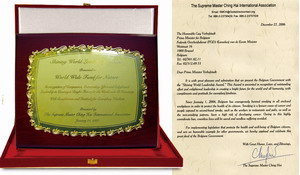 The plaque and the award letter were delivered on February 5, Golden Year 4 (2007), to the headquarters of WWF International in Switzerland.
To acknowledge and support their noble work, Master has honored them with a Shining World Leadership Award, as well as a US$5000 contribution. WWF expressed their appreciation by saying Master's contribution enables them to continue to highlight and demonstrate solutions to crucial environmental issues.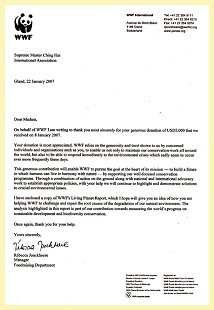 A receipt from WWF acknowledging receipt of Masters US$5,000 contribution on January 8, Golden Year 4 (2007)