South_Africa
SANCCOB's Tender Love and Care of Our Coastal Feathered Friends
By Cape Town News Group (Originally in English) 2007.08.16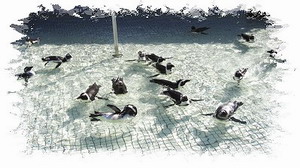 African penguins graciously swimming in a pool at SANCCOB headquarters
On August 16, Golden Year 4 (2007), representatives from The Supreme Master Ching Hai International Association presented the Shining World Leadership Award, a contribution of US$2,000 and various publications of Supreme Master Ching Hai to SANCCOB (The Southern African National Foundation for the Conservation of Coastal Birds) for their tireless efforts in protecting and conserving the coastal birds of South Africa.
In its letter of appreciation to the Association, SANCCOB stated that the contribution has been dedicated to conserving the African penguin species, which is considered vulnerable to extinction. More specifically, it was used to save 850 orphaned chicks received from Dyer and Robben Islands at the end of the 2006 and beginning of 2007 under SANCCOB's Rescue Campaign.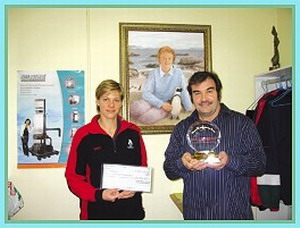 SANCCOB staff members holding the prestigious Shining World Leadership Award and the check for US$2,000
SANCCOB was founded 39 years ago by the late Althea Westphal, who lived in Claremont, Cape Town. She became concerned that so many African penguins washed up onto the shores and there was no organization to rescue and care for them. The Esso Eseen spill of 15,000 tons of fuel oil in April 1968 affected more than 3,000 seabirds. It was the first major recognized spill and Ms. Westphal set up a temporary station at her home, where she began caring and rehabilitating 60 badly oiled penguins. In those days, the birds were scrubbed with Sunlight soap in her bathroom, three at a time, then rinsed with a hose. They were given a 50/50 chance of survival. The first swimming pool was a wooden trailer in her garden, after which she obtained a huge stainless steel dye vat. Two or three times a week the birds were driven to Blaauwberg in her station wagon, marched down the beach to the tidal pool, and allowed to swim for an hour. After their swim, she ferried them back home to feed and care for them until they were well enough to be released into the wild.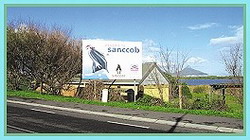 Now SANCCOB is located in Rietvlei, Tableview along the west coast of Cape Town where they have remained until the present. They have a small permanent staff and rely on volunteers for assistance especially after a major oil spill. In the year 2000 after a severe oil spill along the coast, thousands of volunteers assisted with the care and rehabilitation of the African penguins and more than 20,000 were successfully rehabilitated. Recent research by the University of Cape Town's Percy Fitzpatrick Institute shows that the African penguin population along the coast of South Africa is 19 percent higher than it would have been in the absence of SANCCOB's efforts in rehabilitation.
Seabirds and especially African penguins are admitted to SANCCOB's premises due to injury by seal or shark attacks, natural diseases like avian malaria, etc., chicks that have been orphaned, and most of all because of acute or chronic, minor or major oil spills.
Thank you SANCCOB for your dedicated and tender love and care of our coastal feathered friends. Without your presence we might not have had the opportunity to know these beautiful species.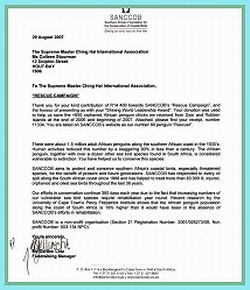 Letter of appreciation from SANCCOB to The Supreme Master Ching Hai International Association
For further information kindly refer to their website:http://www.sanccob.co.za.