Shining World Leadership Award to Tibetan Volunteers for Animals
By Singapore News Group (Originally in English) 2007.08.09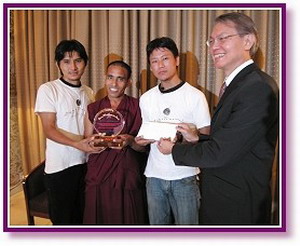 Presentation of the Shining World Leadership Award and financial contribution to representatives of TVA
On August 9, Golden Year 4 (2007), representatives of The Supreme Master Ching Hai International Association traveled to New Delhi, India, to present the Shining World Leadership Award to Tibetan Volunteers for Animals (TVA) on behalf of Supreme Master Ching Hai. This award was given in recognition of the organization's outstanding promotion of animal rights and vegetarianism.
Our beloved Master also made a contribution of US$5000 to support TVA's noble cause and peace-loving efforts to uplift our world.
Master's publications are shared with the representatives of TVA
Despite their tight budget and limited resources, the hard-working members of Tibetan Volunteers for Animals have campaigned for vegetarianism in more than 200 Tibetan settlements within India, Bhutan and Nepal. Mr. Lobsang Monlam, Managing Director of TVA, believes that all Tibetans, being of Buddhist background, are compassionate at heart. More than 15,000 signatures have been collected from people who pledge to become lifelong vegetarians.
In the letter of recognition from Supreme Master Ching Hai, it stated: The Animal Kingdom around the world is filled with joy and gratitude for your efforts to "foster the understanding that all sentient beings on Earth have an equal right of life from the smallest of ants to the largest of animals like the elephant or whale." Moreover, by educating the public about vegetarianism, you are elevating the world's awareness, thus propelling it further into the new Golden Age.
Mr Lobsang Monlam was very honored to receive the Shining World Leadership Award on behalf of Tibetan Volunteers for Animals. He extended their heartfelt thanks to our beloved Master, and said that the award in particular had given them renewed devotion in their lifelong commitment to working for the benefit of animals. He said that the encouragement from Master would inspire them all to work even harder.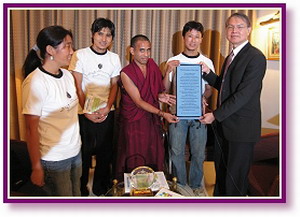 TVA representatives present a banner to our Association
We honor the Tibetan Volunteers for Animals for working to improve the lives of all beings. May they have every success in their efforts to promote vegetarianism and contribute to the peace and harmony on planet Earth.