Hong Kong
Ms. Jill Robinson and Animals Asia Foundation
By Hong Kong News Group (Originally in English) 2007.05.23
On May 23, Golden Year 4 (2007), representatives of The Supreme Master Ching Hai International Association, on behalf of our beloved Master, presented the Shining World Leadership Award and a US$10,000 contribution to Jill Robinson MBE in recognition of her compassion, courage, and outstanding effort for animal welfare. (Please refer to the article 'Moon Bear Hero' in News #181)
Jill Robinson's well-known "Moon Bear Rescue" program has sparked a heart-shaking influence that has brought a huge change in attitude towards animal welfare throughout China and Asia. In China, since October 2000, the Rescue Center has rescued over 219 bears. Recently they have agreed with the Aulacese (Vietnamese) government to rescue bears there. Bear farms in Aulac (Vietnam) are now illegal.
Animal Asia has also expanded the Dr. Dog program to different cities in China. Their 16-minute film "Dr. Eddie: Friends… or Food?" has over 100,000 copies being distributed in the country. The film has compelled a lot of people to reconsider treating dogs as their friends instead of food.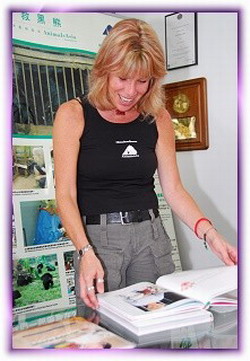 Jill enjoys reading Master's book.
Jill expressed her heartfelt thanks in her letter, saying that Master's kindness is directly helping them to rescue more suffering Moon Bears. As the Moon Bear Rescue Center and Sanctuary in China continues to grow, it is now bursting with healthy happy bears, who no longer wake up in fear and pain. Master's funding will also help to build the first Sanctuary of its kind in Aulac for the bears who have long forgotten the forest to re-discover their freedom. The monetary contribution will also be used to save many lives of dogs and cats.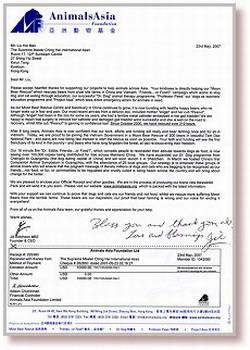 The letter of appreciation from Animals Asia Foundation
Reference:
http://www.animalsasia.org