United States of America
Honey's Supreme Love
By Virginia News Group, USA (Originally in English)
On November 17, Golden Year 4 (2007), representatives from the Supreme Master Ching Hai International Association went to Stephens City, VA in the U.S.A. to present the Shining World Hero Award to Honey, a 7-year-old golden retriever. In September 2007, Honey's caretaker, James Martin was driving a concrete truck back to his company. As he was entering the gate, he noticed that something ran under his truck. He immediately stopped, got down to check, and found that the truck just barely missed a scared, shaken kitten. He looked around and found no sign of the mother cat or any other kittens. Feeling that the kitten was still too young to survive on its own, he brought it home to his wife Kathy.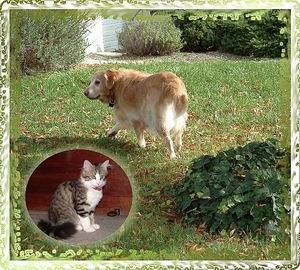 As soon as the kitten arrived, Honey became very curious about it. They tried to keep the dog away at first, fearing that she might play too rough or hurt the kitten. But Honey was very gentle; she started licking and then taking care of the tiny feline. A few days later the loving dog naturally produced milk and began nursing the kitten. After all that, the Martins couldn't imagine giving away the kitten, now named Precious. "Honey decided we were going to keep Precious," Kathy said.
Accepting on Honey's behalf, the Martins thanked Supreme Master Ching Hai for the award as well as the $200 cash and other presents. They were very touched and amazed by the generous gifts. Honey was also very loving and friendly to all of us. She even tried on the two Happy Doggie Hero jackets and posed for the camera. James said, "This event shows us how the Lord would want us to be, to take care of each other."
Following the award, the initiates received a letter of appreciation for Master from James and Kathy in which they wrote, "…It (the award) was truly a touching, and remarkable experience….. The bed for Honey, has not only been enjoyed by Honey, but by all the pets - mostly by Precious, the kitten! I believe each of them have had a turn sleeping in the cozy bed. The jackets are so wonderful, and Honey will be getting more wear out of them as the weather turns colder. The cash award, was also very thoughtful, and was put to good use….. We're so grateful, that Honey and Precious' story had a chance to touch so many people, as they in turn have touched us. Honey is indeed a 'special' spirit, and we're so thankful to have her in our midst."