China
A Noble and Loving Buffalo
By Hong Kong News Group (Originally in Chinese)
On September 2, Golden Year 4 (2007), the representatives of The Supreme Master Ching Hai International Association went to Sichuan Province to visit a brave buffalo who risked his life to rescue his caretaker. (Please refer to News magazine #187). The representatives presented him the Shining World Hero Award and 1,500 Yuan so that his caretaker could buy him more fresh vegetables as his reward.
Before the award ceremony, the representatives stood around him, took turns to interact with him, touched him and talked to him. When sister Huang came to stroke him, he suddenly stopped eating grass and turned his head towards her. He kept licking her shoes. Then he raised his head and rubbed it affectionately against her tummy. Everyone was surprised and wondering why the buffalo treated sister Huang in such a special way. Needless to say, sister Huang was deeply touched by the buffalo's gestures of love.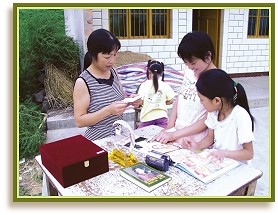 The caretaker of the buffalo enjoyed Master's News magazines and books.
It turned out that the night before, sister Huang was sent to the emergency room in the hospital for her acute cholelithiasis. Her abdominal pain did not subside until 3:00 am. Though still feeling weak, she didn't want to miss the opportunity to convey Master's love to this remote place. Therefore, she traveled with the other representatives early in the morning. It was obvious that this high level soul buffalo knew that she came especially to see him despite her illness. Therefore, he humbly licked the dust off her shoes and softly touched the part of her body that was in pain to express his gratitude for her love. Everyone was deeply touched when they heard the story.
After conveying Master's love and good intentions to the caretaker for what the buffalo had done, we then went to the buffalo to show him his award and let him have a look at Master's photo. We told him, "Master knows how very brave you were to rescue another at the risk of your own life. Master loves you very much and has especially sent us to give you this award. Please know this is She and remember Her." He listened to us attentively and intensely gazed at Master's photo. Slowly, tears began to well up in his eyes and fell down along his face. Several villagers were also moved to tears and said, "He must have seen his loved one." But our representatives all knew that the buffalo had shed the tears because he had recognized the living Master.
From this award ceremony, we witnessed once again that animals are really such noble beings. They are much more intuitive than human beings. When we treat them with love, they will repay us many times over.
Postscript: On September 15, fellow initiates again went to visit the buffalo and brought him his favorite food sweet corn and carrot. His caretaker told us that the buffalo loved eating vegetables.

The appreciation letter from the caretaker of the buffalo
September 2, 2007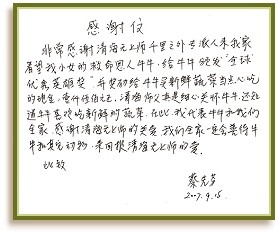 Dear Supreme Master Ching Hai:
Thank You for sending people such a long way to our home to visit the one that rescued my daughter C our dear little buffalo, and for giving him the award and the prize of 1,500 Yuan to buy more vegetables for him as a reward. We sincerely appreciate Your love for our little buffalo and us. We will take good care of him and our other animals to repay Your love.
Sincerely Yours,
Cai Xian-feng