Norway
Save the Children Norway Brightens Future - Mr. Knut Harald Ulland
By Taichung News Group, Formosa (Originally in Chinese) 2008.06.24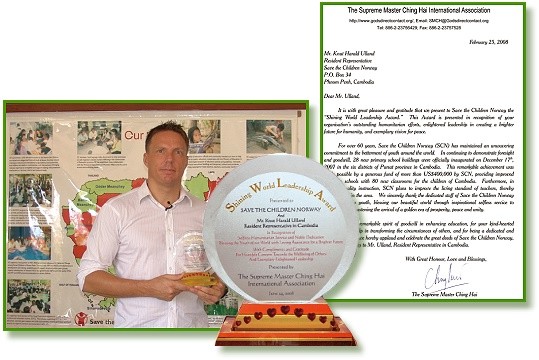 Mr. Knut Harald Ulland, Resident Representative of Save the Children Norway in Cambodia
On June 24, Golden Year 5 (2008), members of The Supreme Master Ching Hai International Association presented the Shining World Leadership Award to representatives of Save the Children Norway in the Cambodian capital of Phnom Penh. The honor was conferred in recognition of the organization's loving endeavors in providing education to Cambodian children.
Save the Children Norway was the first international group to arrive and offer educational assistance in rural Cambodia after the fall of the Khmer Rouge regime. In the initial stage, volunteer teachers taught the children under the trees. Improvements were gradually made to meet local needs and schools were built. Over the years, the organization has provided education to tens of thousands of children in Cambodia.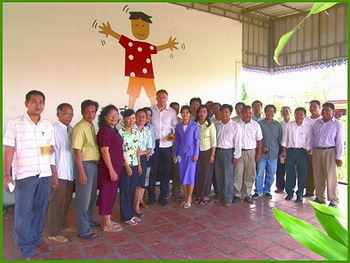 Staff members of Save the Children Norway
About 20 representatives from the Cambodian office of Save the Children Norway attended the Award presentation ceremony. The Award plaque was presented together with Master's books, DVDs and CDs. Each of the representatives received the Climate Change DVD produced recently by Supreme Master Television as well as a vegetarian recipe booklet. Resident Representative, Mr. Knut Harald Ulland, expressed delight at receiving this recognition, which he saw as great encouragement and inspiration. He said that education would be less meaningful without good teachers, which was why one of his main tasks was to train qualified volunteer teachers. The organization is also promoting a nationwide rural security action plan to study potential risks that could hurt the children.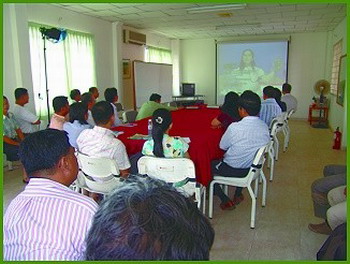 The Shining World Leadership Award film produced by Supreme Master Television is shown to participants at the Award ceremony.
We are very grateful to Save the Children Norway for its loving endeavours that transcend national boundaries and help create a bright future for Cambodian children.