Singapore
Mr. Wee Lin - A Philanthropy Hero
By Singapore News Group (Originally in English) 2008.05.20
On May 20, Golden Year 5 (2008), representatives of our Singapore Association presented the Shining World Compassion Award to Mr. Wee Lin on behalf of Supreme Master Ching Hai. This Award was given for his compassionate efforts in Singapore, as well as North Korea and China, among others. Mr. Wee believes deeply in the need for each individual to earn a respectful existence and has carried this forward to his philanthropic efforts.
Forbes Magazine, in its February 27, 2008 Special Report issue, named Mr. Wee as one of the "48 Heroes of Philanthropy," though Mr. Wee's journey into helping others started much earlier. In 1987, he founded Sunlove Home to care for the disabled and aged needy people. In North Korea in the late 1990's, concerned by the plight of the locals during a famine, he donated rice and maize as well as seed stock of various vegetations that could be planted in the specific local conditions by the farmers. Later he contributed solar and wind turbine systems to a kindergarten and two ambulances for the local community there.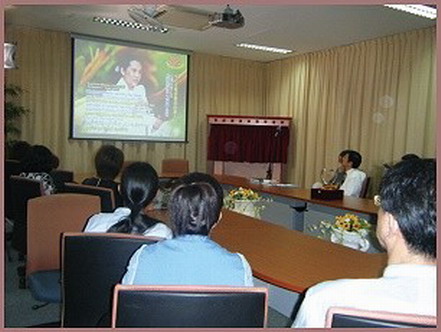 A devotee of an Indian spiritual teacher Sathya Sai Baba, Mr. Wee has been a vegetarian for most of his adult life and gently encourages all religious and spiritual practitioners to realize the underlying divinity and unity in the way we live. Having been exposed to Supreme Master Ching Hai and Her teachings during Her lecture in Singapore in 1995, Mr. Wee was greatly honored to receive the Shining World Compassion Award from Her.
The Shining World Compassion Award ceremony at Sunlove Home was attended by a number of staff and Singapore media. Mr. Wee was moved by the magnanimity of the occasion and encouraged all those present to delve deeper into their hearts and souls and do "everyday charity." He was quoted as saying in the press: "I'm a doer of small things. What I hope is that there will be a multiplier effect, and others will be interested to help as well."
We wish to thank Mr. Wee Lin, Hero of Philanthropy and recipient of the Shining World Compassion Award, for his kindness toward fellow men regardless of race, creed and nationality.