United States of America
Hero Da'Argo Sounds the Timely Alarm
By Michigan News Group, USA (Originally in English)
On May 26, Golden Year 5 (2008), initiates from the Michigan Center had the privilege to present the Shining World Hero Award on behalf of Supreme Master Ching Hai to Da'Argo, a Labrador Retriever-German Shepherd living in Lansing, Michigan. Apart from the Award plaque, Da'Argo was also given a cozy doggie bed, veggie dog food and green veggie bones, while his human companions, Scott Clark and his wife, received Master's publications as gifts.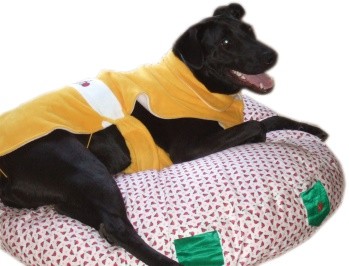 Scott told our Association members that on January 24 of this year, a very cold, snowy day, he and his wife, Jenn, had let Da'Argo and their other dog out into the backyard. When they heard Da'Argo barking continuously at a higher than usual pitch, they knew something was wrong. Going outside to investigate, he saw his neighbor, an elderly woman in her 90's, lying in her driveway with a gash on her forehead. The poor lady had slipped and fallen while shoveling the snow off her driveway. She was unable to get up and had lain there in the bitter cold (less than 20 degrees Fahrenheit) for about two hours. Immediately, Scott phoned for emergency assistance, while his wife ran to the old woman with a space heater and blanket to keep her warm. She was soon taken to the local hospital and, the following day, was listed in good condition.
Thanks to Da'Argo sounding the alarm, the elderly lady survived the arduous ordeal. Scott was very grateful for the Award and gifts. He remarked that he had obtained both of his dogs from the Humane Society and that it was a great humanitarian organization for anyone seeking to adopt a pet. May God bless all our animal co-inhabitants who are patiently waiting adoption in shelters throughout the world.