United States of America
Laney - Courageous Labrador Saves Boy and His Friends
By Illinois News Group, USA (Originally in English)
On June 21, Golden Year 5 (2008), Illinois Center initiates drove to Valparaiso, Indiana, to present the Shining World Hero Award on behalf of Supreme Master Ching Hai, to Laney, a courageous Labrador who saved Christopher Peebles and his friends from a dangerous fire.
On a Friday in January, Christopher and his friends were sleeping in the basement, while his parents were at work. Suddenly he was awakened by Laney persistently nipping at his foot. Noticing that the house was filled with smoke, he immediately alerted his friends. The children and Laney ran upstairs and they were able to get out of the house safely. Christopher was very grateful to Laney for saving their lives.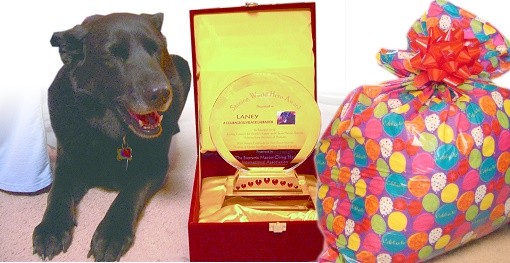 At the presentation ceremony, both Mrs. Peebles and Christopher expressed their appreciation to Supreme Master Ching Hai for the Award and gifts. Laney was given a dog bed, two Happy Doggy outfits, a big bag of vegan Lively Doggy food, and veggie bone treats. The family received candies, a selection of Master's video lectures and books, and a US$200 check from Master to cover some of the medical expenses for Laney incurred from the incident. After trying on the doggy outfits and posing for the camera, Laney became preoccupied with the veggie bone treats, which he shared with another dog that was present.
As the team departed, they felt Master's blessing fill the Peebles' temporary residence with a lot of love. May their home soon be repaired from the damages caused by the fire and their lives return to normal.