Formosa(Taiwan)
Highest Honor for Supporting the Noble Diet - Hsinchu County Magistrate Cheng Yung-chin
By Formosa News Group (Originally in Chinese) 2008.08.25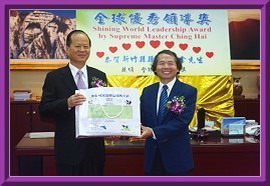 Hsinchu County Magistrate Cheng Yung-chin (left)
On August 25, Golden Year 5 (2008), on behalf of Supreme Master Ching Hai, our Association members presented the Shining World Leadership Award to Hsinchu County Magistrate Cheng Yung-chin in recognition of his wise and compassionate governance. Magistrate Cheng was the first local government leader in Formosa to openly support the noble vegetarian diet. On Earth Day, he played an exemplary role by inviting his entire government staff to enjoy a most delicious and healthy, eco-friendly plant-based diet meal with him. He also encouraged Hsinchu residents to join the "No Meat, No Heat" endeavor. Magistrate Cheng recently instructed the relevant departments to launch a nutrition project, urging local elementary and junior high schools to provide at least one vegetarian lunch per week.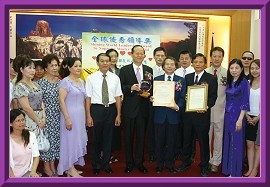 Hsinchu County Magistrate Cheng Yung-chin with our Association members
The Award presentation took place in a cordial ceremony. Awed by Master's immense love, Magistrate Cheng expressed his eagerness to help realize Master's noble ideal of compassion. While thanking the Supreme Master for this highest honor, he reciprocated with a meaningful gift of an eco-friendly bag and porcelain mug as well as a letter in memory of his late mother, who had also been a vegetarian.
We hope that all government leaders in the world will step forward to encourage people to adopt a compassionate, healthy and sustainable plant-based diet, and to work together to save our planet.