Save The Children
Save the Children Lauded for Outstanding Compassion
By Bangkok News Group, Thailand (Originally in English) 2008.06.25
Love and compassion for our fellow humans is never more obvious than at times of disaster. In the wake of catastrophic destruction caused by Cyclone Nargis in May of 2008, the people of Myanmar have been thankful to receive generous aid from countries around the world. Governmental and non-governmental organizations have stepped forward ― their commitment and expertise playing a vital role in relief and recovery efforts.
In recognition of their munificence and outstanding concern, Supreme Master Ching Hai presented the Shining World Compassion Award to 29 select organizations and distinguished representatives of 21 countries across four continents. Her appreciation has contributed to closer bonds among those dedicated to noble endeavors for the betterment of the world. Following are brief reports of two of the most active benefactors — the British Red Cross and Save the Children.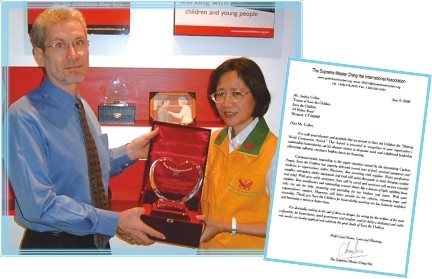 Mr. Greg Duly receiving the Award plaque from our Association member
Save the Children Lauded for Outstanding Compassion
On June 25, representatives of The Supreme Master Ching Hai International Association presented the Shining World Compassion Award to the world relief organization, Save the Children, in honor of its aid to people affected by Cyclone Nargis in Myanmar. Regional Director Greg Duly accepted the Award on behalf of the organization and graciously described its mission and relief plans for Myanmar. Within days after the cyclone hit, Save the Children urgently delivered several tons of food, water, shelter materials, household necessities and rehydration salts to organizations in Myanmar, providing vital supplies and bringing comfort to our brothers and sisters in need. Save the Children agencies worldwide are also seeking to raise US$28 million for continued relief efforts in Myanmar.
Save the Children was established in England in 1919 by Mrs. Eglantyne Jebb with the primary mission of bringing about the well-being of children around the world. Today it has expanded into a leading relief aid organization with 28 national members working in more than 110 countries. Having worked in Myanmar for 13 years with about 500 staff members, it was able to launch its relief operation within a day of the disaster.
According to Director Duly, the organization has reached about 480,000 people in Myanmar, providing food, water, sanitation, health care, shelter, child protection and education. It has also drafted a two-year relief plan to assist 800,000 households in the 14 most affected townships. For this endeavor, its staff will be almost doubled and about US$25 million will be committed to recovery and reconstruction work.
Supreme Master Ching Hai and Her Association wish to applaud and thank Save the Children for its noble assistance to people in need, and for being such a shining example of love in action for the rest of the world.