Animal Lovers in Iran Make Praiseworthy Effort - Ms. Lida Essna Ashari & Ms. Fatemeh Motamedi
By Iran News Group (Originally in English) 2008.07.14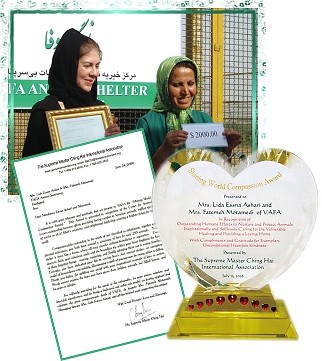 Representatives from Vafa animal shelter, Ms. Sharareh Pour Aryan (left), and Ms. Essna Ashari, receiving the Award and check of US$2,000 from Master.
The Vafa Animal Shelter, its name aptly taken from the Farsi word meaning loyalty, was honored with the Shining World Compassion Award from Supreme Master Ching Hai. Representatives of the Supreme Master presented the commemorative crystal Award plaque together with a contribution of US$2,000 to Vafa members in Iran on July 14, Golden Year 5 (2008). Ms. Lida Essna Ashari, the managing director, received the award on behalf of Vafa and its staff.
Vafa was the first animal shelter to be built in Iran. A subsidiary of the Animal Lovers Center, it was established in 2004 by Ms. Fatemeh Motamedi, who currently resides in Canada and has entrusted the shelter to a few animal lovers presided by Ms. Essna Ashari. It occupies an area of 4,000 square meters and is home to about 250 stray animals. When the animal friends are brought in, they are first treated for injury before being given vaccinations and anti-parasitic treatment.
Since Vafa advocates love for nature and respect for animals, Ms. Essna Ashari and the majority of the staff are vegetarian. They were happy to receive recognition for their sincere efforts while being surrounded by their healthy and beautiful dogs. On behalf of their animal friends, they expressed their deepest gratitude for the kindness and great compassion of Supreme Master Ching Hai.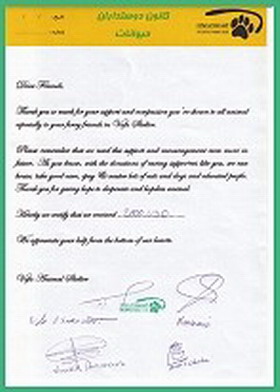 Thank-you letter from Vafa Animal Shelter