Aulac(Vietnam)
Trần Văn Nhâm - Teacher for the Mekong Delta Children
By Au Lac News Group (Originally in Aulacese) 2008.09.18
"Witnessing the children born and growing up in this poor countryside that suffered from lots of disadvantages and necessary conditions of life, I automatically found that I must be responsible for instructing them to read, write and calculate. That is essential equipment for them to make their way in the world. For that reason, I opened the classes with no fee for children from nursery to the third grade right on this indigent land ... It is named "The Compassion Class."
These were the words of teacher Trần Văn Nhâm, who shared his heart when asked about the compassion classes he and his wife, Lê Ngọc Lễ, have set up in Tân Thành commune, Án Minh district, Kiên Giang province.
Here in an old thatched house in a fishing village in the Mekong Delta, about 120 students study in two crowded classrooms under the gentle guidance of two devoted teachers. Despite reaching an age when a leisurely retirement would have been the norm, the Nhâms have taken on the challenge of imparting these young children with knowledge and cooperating with parents to instruct them in morality. "The duty of a primary school teacher is to transmit studying desire into the hearts of children who are just beginning to go to school," said teacher Nhâm, whose life experience has given him great foresight and wisdom.
The couple have given generously, seeking nothing for themselves but a life of hope and optimism for the children and their families. Their hope for tomorrow concerns not themselves, but the youngsters, who could benefit from more spacious classrooms with better lighting, larger blackboards, bookshelves and a playground.
For such a meaningful contribution to social upliftment, Supreme Master Ching Hai conferred upon teacher Nhâm the Shining World Compassion Award and a gift of US$2,000. On September 18, (Golden Year 5) 2008, teacher Trần Văn Nhâm accepted the Award with great humility, and thanked Master for giving him new energy and faith to continue his selfless endeavor. "Only such a great love can recognize a small action from the Compassion Class in this remote and solitary area," he wisely reflected.
We thank teacher Nhâm and his wife for setting such a worthy example that will light the way to a brighter and more joyful world, where people find happiness in bringing warmth and radiance to humanity.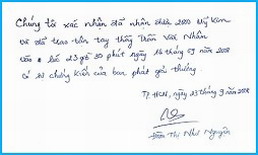 Receipt from teacher Trần Văn Nhâm for the US$2,000 contributed by Master