Australia
Mr. Ronan Lee - Member of Parliament Speaks Up
By Brisbane News Group, Australia (Originally in English)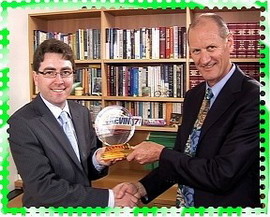 Mr. Ronan Lee (left) receiving Master's Shining World Hero Award plaque from our Association member
On September 16, Golden Year 5 (2008), the admirable Ronan Lee, member of the Queensland Parliament in Australia, was honored with the Shining World Hero Award from Supreme Master Ching Hai for courageously promoting the vegetarian diet and compassionately advocating conservation for our precious water resources.
In 2005, as part of his support for the Water Amendment Bill in Queensland, Mr. Lee spoke about the excessive amounts of water required to raise livestock, and encouraged his fellow members of parliament to reduce their meat intake in order to conserve water.
At the Award ceremony, Mr. Lee said he had noticed that since his candid speech, people now have a better understanding of the immense water and energy involved in producing food and other products. "Once you tell people what's going on they start to think about these issues. In no way would I consider that one speech made a huge difference, but clearly one speech got people thinking. People started to think about their consumption of food."
Mr. Lee is a conscientious, caring member of society and has been serving the community as parliamentary member in Queensland since 2001. A passionate environmentalist and vegetarian for over 15 years, he recently took the bold step of changing political parties to the Australian Greens so he could make the future of our planet his priority.
When asked what his advice to people wanting to reduce their impact on the environment was, he responded: "A great way to do it is to cut down or stop eating meat entirely."
Our Association members in Brisbane presented the Award on behalf of Supreme Master Ching Hai, to Mr. Lee at his Indooroopilly office. Apart from the beautiful crystal Award plaque, he also received Master's latest publications and a "Hero" jacket! Mr. Lee was grateful for the Award and delighted at the gifts, "The first thing to say is thank you … it's a humbling experience. … What I do is the job the community expects of me and I think that my message to other people in elected office around the world and within Australia is that, the communities are actually expecting a lot more from us than sometimes we know. They're looking for leadership on climate change, they're looking for us to be prepared to embrace change."
Thank you, Mr. Ronan Lee, for being a strong voice for humanity, the animals and the environment, protecting our precious resources and advocating action on climate change.