Sweden
Eskil Erlandsson - Creating a Harmonious Society for Humans and Animals Alike
By Award News Group (Originally in English) 2008.12.31
Sweden's government made a decision to ban all cat and dog fur and products containing such fur starting December 31, Golden Year 5 (2008). To recognize its outstanding humane policy of animal protection and enlightened leadership in creating a safer future for our co-inhabitants, Supreme Master Ching Hai presented Sweden and His Excellency Eskil Erlandsson, Sweden's Minister for Agriculture, the Shining World Leadership Award.
Upon receiving the Award letter from Supreme Master Ching Hai, H.E. Erlandsson asked the Ministry of Agriculture to convey his appreciation to Her for honoring him and Sweden for the Award.
May Sweden continue creating a harmonious society for humans and animals alike, by protecting all living beings through wise governance.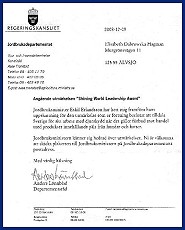 Letter from the Ministry of Agriculture, Sweden