Canada
Daniel Burd - Degrading Plastic through Micro-organisms
By Ottawa News Group (Originally in English) 2008.09.04
A 16-year-old boy from Waterloo, Canada has discovered a method that can potentially degrade plastic bags in only three months, thus saving the lives of countless animals and restoring the beauty of our world. Daniel Burd, a student at Waterloo Collegiate Institute, came up with his entry for the Canada-Wide Science Fair, held in Ottawa, during his everyday life.
Daniel learned that plastic bags can take up to 1,000 years to degrade and are very detrimental to our environment. Every year, over 500 billion plastic bags are used. In addition to polluting landfills, billions of bags end up in the ocean where they can be ingested by aquatic animals, causing harm or even death to countless precious turtles, fish, birds, and even whales.
During his scientific research, Daniel discovered that some types of bacteria in the soil can effectively decompose the bags. After conducting various experiments, he eventually isolated two microbial strains belonging to the genus Sphingomonas and Pseudomonas which appeared to most successfully degrade the polyethylene.
He took optimal concentrations of these two microbial strains, added some sodium acetate to promote bacterial growth, and placed the mixture among several strips of common grocery bags. Within only six weeks, Burd had achieved a 43% degradation of the plastic, and he believed the bags would decompose completely within three months.
Burd is confident that this method could be applied in large scale. He stated, "Industrial application should be easy. All you need is a fermenter. . . your growth medium, your microbes and your plastic bags." In addition, minimal energy would be required for the process, as the bacteria themselves create heat as they decompose the plastic. The young boy's research has generated worldwide interest.
In recognition of his innovation and kind-hearted determination to save our animal friends and our environment, Supreme Master Ching Hai awarded Daniel Burd the prestigious Shining World Inventor Award on September 4, Golden Year 5 (2008), along with a US$500 gift. Upon receiving the Award, Daniel graciously sent a thank-you letter to Supreme Master Ching Hai, saying, "To receive such recognition means a great deal to me--it shows that there are organizations and individuals in our world who are working on and supporting extremely important environmental issues… We just have to find a balance between Mother Nature and our daily lives, because we can not go on living as though we have a spare world in our pockets."
Burd is currently finishing his final year of high school and plans to pursue university studies in science. May God bless you abundantly in your future research projects, Daniel Burd, a Shining World Inventor!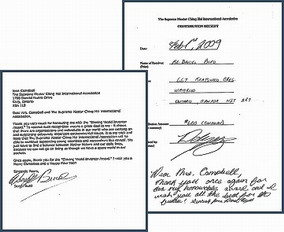 Thank-you letter and receipt from Daniel Burd for the US$500 (CAD$600) gift from Master.
Reference:
http://www.science.uwaterloo.ca/WWSEF/08Awards/08BurdReport.pdf
http://news.therecord.com/article/354044
http://apps.ysf-fsj.ca/virtualcwsf/projectdetails.php?id=1390