Canada
Dustan Roach-Matthews -- Selfless Courage in Face of Danger
By Vancouver News Group, Canada (Originally in English) 2008.10.25
The courageous action of 11-year-old Dustan Roach-Matthews was credited by the police for saving many lives in North Vancouver, Canada. On May 6, Golden Year 5 (2008), Dustan was with his father in the basement of their apartment building, looking through their locker, when they heard a smoke detector go off. Dustan ran up the stairs to check what was happening, and discovered that the apartment block was on fire. He immediately proceeded to run through all three stories of the building, shouting that there was a fire and that people should get out.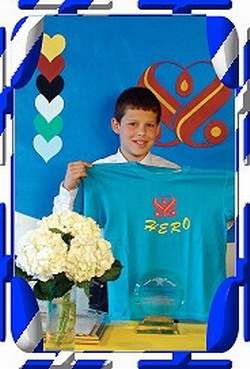 Upon learning of Dustan's quick thinking and brave actions, Supreme Master Ching Hai honored the young boy with a Shining World Hero Award. On October 25, the Award ceremony took place at the Paradise Vegetarian Noodle House, owned by an initiate. Dustan was presented with the beautiful Crystalline Plaque, along with a letter from Master, Her publications, and a Hero T-shirt which he put on right away. The young hero was moved by Master's recognition and gifts. His father, Bryan Matthews, was also presented with a Hero jacket for going back into their apartment to rescue their cat companion. Dustan's parents are very proud of their son.
After the ceremony, Aulacese-style vegan food was served, which Dustan and his parents found to be delicious! It was wonderful to share Master's love with this heroic family. Thank you, Dustan, for your outstanding action of helping others before thinking of your own safety. May God's grace accompany you always.