Formosa(Taiwan)
Madam Chen Wen-mei - A Saint Dedicated to Helping Homeless Animals
By Taipei News Group, Formosa (Originally in Chinese) 2009.02.09
More than ten years ago, Madam Chen Wen-mei was deeply moved with compassion when on one occasion, she saw a homeless mother dog being beaten by people while she was trying to find food for her puppies and on another, the mournful eyes of a stray dog that was about to be euthanized, which reminded her just how precious life is. Since then she has devoted all her efforts to providing shelter for homeless dogs, and is now the director of the Taipei County Animal Protection Society. Every day for over a decade, she has climbed the hill to clean the dog pound and feed the dogs.
On February 9, Golden Year 6 (2009), our Association members visited the Wugu Dog Shelter run by the Animal Protection Society to present the Shining World Compassion Award and a US$10,000 contribution to Madam Chen on behalf of Supreme Master Ching Hai. Madam Chen was very grateful to Master for acknowledging her endeavor, and for extending love and concern to the dogs. She said that Master's encouragement has given her great determination to continue this lifelong dedication to taking care of the homeless animals. On behalf of more than 300 dogs under her care, she thanked Master, and promised to follow Her example of humility and love in action. With deep gratitude, Madam Chen said she would use the money to rebuild the dog pound, thus providing a more comfortable and hygienic living environment for the dogs.
This special lady also mentioned that a sister Xu often gave her vegetarian dog food, which the animals liked very much. As a result, they have become wiser and more docile. For a long time, a dog named Meijin had been helping to provide therapy to a patient suffering from depression. They became such dear friends that the patient was reluctant to see Meijin leave. This inspired Madam Chen and she hopes to train more therapy dogs to help people in need. Through interacting with sister Xu, Madam Chen has now become a vegetarian.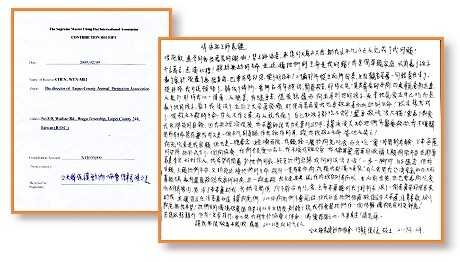 Madam Chen Wen-mei's receipt and letter of appreciation for the US$10,000 from Master