The United Arab Emirates
The Good Governance of Dubai - His Excellency Hussain Nasser Lootah, the Director General of the Dubai Municipality
By Malaysia News Group (Originally in English) 2009.03.22
On March 22, Golden Year 6 (2009), His Excellency Hussain Nasser Lootah, the Director General of the Dubai Municipality, was presented with the Shining World Leadership Award given by Supreme Master Ching Hai. The Award was in recognition of the outstanding efforts of the Dubai Municipality for earnestly promoting the well-being of its citizens with its recent declaration of a smoking ban in hotels, shopping malls, restaurants and cafes. The event was covered by the Albayan and The Gulf newspapers.
His Excellency warmly accepted the crystal plaque and Master's books, DVDs and a CD from the representatives of our Association. He said, "I am really appreciative of the work you are doing, and we appreciate the Award you are giving. We are very surprised to find that there's someone who cares about some work being done by another country. That means, even if you are overseas or in another country, you still care about these practices for the benefit of human beings, saluting the Dubai Municipality and the Dubai City for the banning of cigarettes and providing us with the certificate. Yes, we appreciate it and we thank you very much." During the visit, he also shared with our representatives his vision in creating a "green" Dubai. Furthermore, he showed them the green roof project on the top of the municipal building.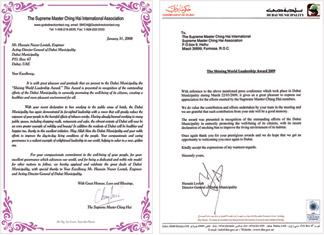 After the Award ceremony, Mr. Mohammed Al Noori, Head of the Award Office, International Affairs and Relationship Sector, warmly escorted our representatives to the Municipal Projects' Exhibition Hall, and explained to them the history, development and progress of Dubai. Touched by Master's love and compassion for Her animal companions, Mr. Noori shared some of his joyful experiences with his own pet bird as well. He extended an invitation to Master to visit Dubai in the near future. Souvenirs from the Municipality were also graciously presented as gifts to Master and our representatives.
Thank you, Your Excellency Hussain Nasser Lootah, for setting such a good example of governance by protecting and promoting a healthy lifestyle among your citizens.

News media covering the event
For the press release from the Dubai Municipality, please visit:
http://video.godsdirectcontact.net/r/dubai.php