Australia
Putting the Lives of Others First - Mr. Mark Pacey
By Brisbane News Group, Australia (Originally in English)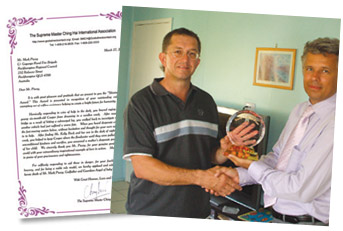 Mr. Pacey (left) receiving the Award plaque
On a dark and rainy night in February 2008, a 41-year-old electrician, Mark Pacey, was driving home to Rockhampton in Queensland, Australia, when his vehicle suddenly veered off the road becoming half-submerged in the rising Gogango River. Luckily, his car was stopped by a log, enabling him to quickly put it in reverse and get off the causeway to a safer area. Concerned about the dangerous road condition, Mr. Pacey went back to have a look. It was then that he saw that a four-wheel-drive vehicle with a trailer had encountered the same problem as he had, but instead of being blocked by the log, it had been carried away by the raging current. The vehicle was sinking quickly, and there was a voice yelling out in the darkness, "Help! Help me and my family!"
Mr. Pacey managed to keep his calm to think about what was the best thing to do. He called back, "Look, mate, I promise you. I'm just going up to the township to raise the alarm and I'll be back." When he returned with members of the local fire brigade, he put on a miner's headlight, plunged into the roaring river, and swam about 100 meters before reaching Kelly Bock and her six-month-old baby, Cooper. Eventually, all four passengers were pulled out of the floodwaters and taken to safety. Sadly, Kelly Bock succumbed to the effects of braving the strong currents, shortly after reaching land.
For his incredible heroism and gallant actions, Supreme Master Ching Hai honored Mr. Pacey with the Shining World Hero Award, which was presented by our Association members on December 4, Golden Year 5 (2008). In the Award letter, Master wrote: "For selflessly responding to those in danger, for your fearlessness, compassion and bravery, and for being a noble role model, we hereby applaud and celebrate the life-saving heroic deeds of Mr. Mark Pacey, Godfather and Guardian Angel of baby Cooper."In addition to the letter and crystal plaque, Mr. Pacey also received a Hero jacket and a selection of Master's publications. Being a humble man by nature, he said, "Thank you. I never really expected any awards; just to be able to help is good."
We extend our deepest admiration and respect to Mr. Mark Pacey. May God's infinite grace shower abundant blessings on you, your family and all those whose lives you have touched.
Reference:
http://www.news.com.au/couriermail/story/0,23739,23248429-3102,00.html