Russia
In Memory of a Young, Brave Soul - Zhenya Tabakov
By Moscow News Group, Russia (Originally in Russian) 2009.01.31
One day last November, when seven-year-old Zhenya Tabakov and his 12-year-old sister, Yana, were home alone in the town of Noginsk-9 in Moscow Region, a robber with a knife entered their apartment. In order to save Yana from the intruder's unwelcome advances, Zhenya seized a knife from the kitchen, causing the man to release his sister so that she could run to the neighbors for help. However, Zhenya himself did not survive the wounds he sustained from the robber, who was later caught by the police.
Russia's President Dmitry Medvedev honored Zhenya with the Order of Courage medal. During an award ceremony held in Noginsk-9, Mr. Alexander Bastrykin, Chairman of Investigatory Committee at the Public Prosecutor's Office of the Russian Federation, presented the medal to Zhenya's mother. Governor Boris Gromov of the Moscow Region also attended the ceremony. In memory of Zhenya, his school, N 83, placed his photo on the desk he used. Later a special plaque will be attached to the desk and only the best pupils will have the honor of sitting at this desk.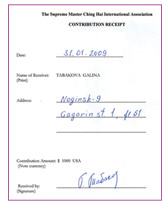 Receipt from Zhenya's mother
for the US$1,000 contributed by Master
Upon learning of Zhenya's unhesitating bravery and swift noble action in defending his sister, Supreme Master Ching Hai honored him with the Shining World Hero Award, which was presented to Zhenya's mother on January 31, Golden Year 6 (2009) by our Association members. Along with the crystal plaque, a US$1,000 check, Master's books in Russian and English as well as several DVDs were also presented. May the young and courageous soul of dear Zhenya rest eternally in God's grace and may his noble heart be remembered with much love.
Reference:
http://www.russiatoday.com/Top_News/2009-02-03/Boy_who_died_saving_sister_from_rapist_awarded.html?page=40