Australia
Three Men Save Drowning Man - Mr. Andrew Fisher, Mr. Johan Malm and Mr. Cameron Wilson
By Brisbane News Group, Australia (Originally in English)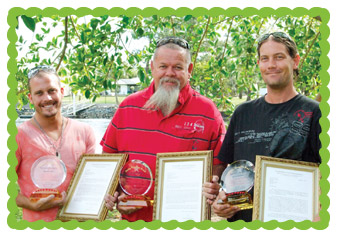 The three heroes (left to right) Mr. Johan Malm, Mr. Cameron Wilson and Mr. Andrew Fisher
Supreme Master Ching Hai honored three gentlemen from Surfers Paradise in Queensland, Australia, each receiving a Shining World Hero Award for risking their own lives to save another. On October 3, Golden Year 5 (2008), a vehicle plunged 10 meters into the ice-cold Nerang River, leaving the driver unconscious. Mr. Andrew Fisher, Mr. Johan Malm and Mr. Cameron Wilson sprang into action as one of them held a torch while the other two jumped into the freezing water, struggling with the strong currents for 20 minutes before finally pulling the driver out of the submerged vehicle. Then they spent another 10 minutes making sure no one else was in the car. Fortunately, the driver was revived by paramedics at the scene and then taken to hospital.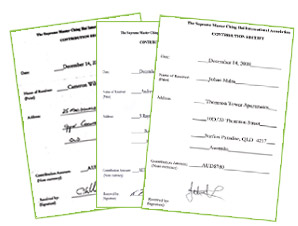 Receipts from the three awardees for the US$500 contribution from Master
On December 14, our Association members from Brisbane presented the Awards to the three rescuers on behalf of Master. Mr. Malm said humbly, "It's just one of those things, you're not really a hero, you act instinctively and accordingly … just hoping that people would've done the same for me if I would be in that car." The three were greatly surprised when they each received US$500 from Supreme Master Ching Hai. One of them joked, "Santa came early, I think."
Thank you, brave gentlemen, for being exceptional examples of heroism and risking your own lives to save another.