Equatorial Guinea
His Excellency Teodoro Obiang Nguema Mbasogo, President of the Republic of Equatorial Guinea
By Spain News Group (Originally in Spanish) 2009.06.04
For his noble deeds in providing urgent assistance to natural disaster victims in various countries, His Excellency Teodoro Obiang Nguema Mbasogo, President of the Republic of Equatorial Guinea, was formally presented with the Shining World Leadership Award on June 4, Golden Year 6 (2009). Supreme Master Ching Hai honored the dignified President with this Award for his country's efforts in generously supporting victims of hurricanes Ike and Gustav in Cuba, the earthquake victims of China, and the flood victims of hurricane Katrina in New Orleans, USA, as well as in Haiti.
The presentation, made by Association member representatives, took place in the Parliament House of the Republic of Equatorial Guinea during the Equatorial Guinea National Day celebrations. Delegates from Africa, Spain, the USA, South America and China, professors from universities in Russia and Colombia as well as all the local officials and foreign diplomats were present at the ceremony.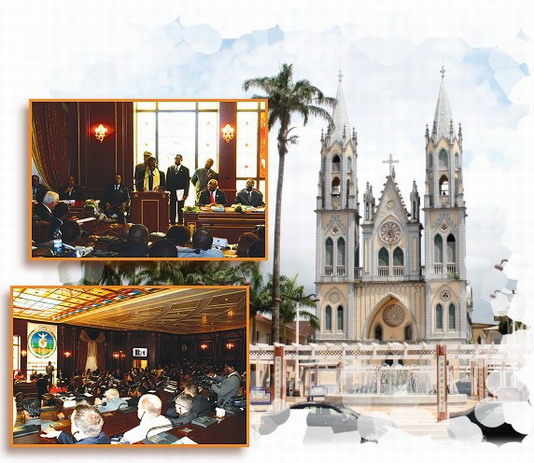 Attendees of the event greatly appreciated the beautiful message from Supreme Master Ching Hai in a letter addressed to the Equatorial Guinea government and her President. The letter stated: "Under your guidance and with immeasurable compassion, Equatorial Guinea has helped many countries during their time of need, lovingly assisting disaster victim's recovery from trauma and loss… Your country's numerous gifts are especially commendable as Equatorial Guinea's resources are not high in surplus. Your Excellency, we are touched by Your sincere and fruitful gestures of friendship with other nations, in order to help their citizens, be it friend or foe. You have set a shining example of the highest ideals, where all humanity cares for each other. May God bless You, Your people and all those touched by Your unconditional and merciful love."
President Mbasogo concluded the ceremony with a heart-warming speech saying, "When Equatorial Guinea gave the help to those in need, our only concern was for the victims, not the size of the country. Therefore, Equatorial Guinea rendered aid to the victims in New Orleans, even though USA is the richest country in the world; we didn't think that there was no need to give, we just thought of the people who were suffering." In showing his appreciation to Supreme Master Ching Hai, he said, "I warmly thank Her for having unconditionally granted the Shining World Leadership Award in recognition of my modest contributions towards a better future for humankind."
God bless Equatorial Guinea and her President for compassionately helping victims of climate change induced disasters. With more nationals extending such brotherly love to one another, our world will surely embrace a brighter future!