Mr. Tortell Poltrona - Healing the World with Laughter - Clowns Without Borders
By Spanish News Group (Originally in Spanish) 2009.03.22
"Laughter is the best medicine." It is indeed so, as shown by Mr. Tortell Poltrona, recipient of the Shining World Compassion Award from Supreme Master Ching Hai. Mr. Poltrona is the founder of Clowns Without Borders, a non-profit organization that began in Barcelona in July 1993 with the goal of bringing entertainment and light-heartedness to people, especially children, in disadvantaged or troubled areas.
The inspiration to create such a unique organization came to Tortell Poltrona when he, as a professional clown in Spain, was invited to perform in a refugee camp in Croatia. This performance unexpectedly attracted an audience of more than 700 gleeful children. Realizing that there is a great need and appreciation for clowns and entertainment in trying situations, and stirred by compassion for the children living in challenging circumstances, Mr. Poltrona founded Clowns Without Borders. The group offers humor as a way to support communities that have experienced difficulties, both physically and emotionally, and helps them to heal.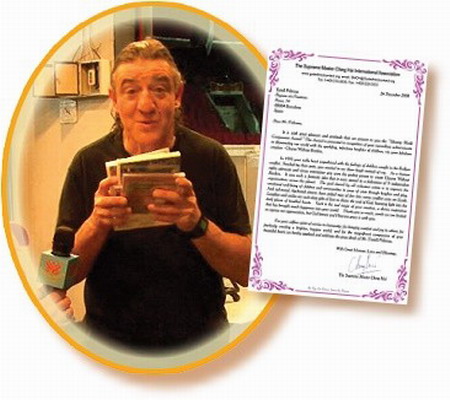 Soon, the idea of entertaining in areas of crisis extended to other countries, and today, Clowns Without Borders has organizations in nine countries around the world including Spain, France, Sweden, Germany, Belgium, Ireland, South Africa, Canada and the United States. The dedicated staff and volunteers travel far and wide around the world to perform in refugee camps, orphanages, schools, disaster shelters and so on. Their pure intentions of alleviating the sorrow and hardships felt by those undergoing unfortunate circumstances provide the motivation for them to work long hours on and off the stage. In 2009, they are working towards the goal of completing 100 projects worldwide.
On March 22, Golden Year 6 (2009), during an interval of a circus performance in Madrid, Association members, on behalf of Supreme Master Ching Hai, presented Mr. Tortell Poltrona with the Shining World Compassion Award, along with a US$5,000 contribution and Master's bestselling books and other publications. The crowd gave a big round of applause when Mr. Poltrona showed them the beautiful plaque. In Her letter of appreciation, Master wrote, "Laughter and smiles are such deep gifts of love to share; the soul of God, beaming light into the dark places of troubled hearts. Such is the real magic of your creation, a divine inspiration that has brought much happiness into your world. Thank you so much. Words are too limited to express our appreciation, but God knows and Heaven's grace is with you."
Mr. Poltrona expressed his heartfelt gratitude to Supreme Master Ching Hai on behalf of Clowns Without Borders, and announced that the money will help their next project this summer in refugee camps in the Congo and Rwanda areas. "We'll continue struggling so that the children of this world can at least be children," he said.
We thank you, Mr. Poltrona and the Clowns Without Borders organizations around the world, for the uplifting work you are doing to bring smiles to audiences in need. May God bless and protect you in all your noble endeavors.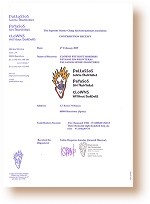 Receipt from Clowns Without Borders for the US$5,000 contribution by Master