Belgium
Ms. Marie-Jeanne Frédérique - Carrying on the Legacy of Love
By Belgium News Group (Originally in French) 2009.05.19
For many years the kind-hearted Ms. Marie-Jeanne Frédérique has provided a safe haven for animals that have been abandoned, mistreated or saved from factory farms. Residing in her home, at Galmaarden, Belgium, there are currently around 150 rescued animals, including tortoises, dogs, peacocks, cats and chickens, peacefully living in this wonderful shelter, which provides rehabilitation and loving care. Ms. Frédérique became a vegetarian 40 years ago. She and her daughter Fabienne first began taking in animals because they had nowhere else to go. After Fabienne passed on at a young age, to assure the continued legacy of the shelter, Ms. Frédérique established a non-profit charity organization and named it ASBL Fabienne in the loving memory of her daughter.
Ms. Frédérique fondly recalled that her daughter was the first one in Belgium to receive a diploma without even killing an animal. "She didn't want to do vivisection, but she was a very good student and they let her pass. That was a great step for her, for everyone, especially the animals. But her goal was to save the animals." Ms. Frédérique later went completely vegan and made protecting all living beings including plants the focus of her life. All animals cared for by ASBL Fabienne are fed only plant-based foods and are in perfect health, according to a veterinarian.
In recognition of her unconditional pure-hearted love and nurturing devotion ensuring the wellbeing of animal co-inhabitants in need, Supreme Master Ching Hai gave Ms. Marie-Jeanne Frédérique the Shining World Compassion Award and €10,000 to support her noble mission. At the Award ceremony on May 19, Golden Year 6 (2009), a selection of Master's DVDs and CDs, as well as the international No. 1 bestselling book The Noble Wilds were also presented to her.
Deeply touched by the Award, gifts and encouragement from Master, Ms. Frédérique wrote:
"I am very grateful to you for your generous contribution. It has been a great reviving support for ASBL Fabienne, and has brought a lot of comfort to the animals that have experienced so much suffering having been rescued from the torture of the slaughterhouse. I share their life.
"Your presence is henceforth at my sides, truly sustaining me as I serve the cause which is so dear to us. Your CDs have brought relaxation to my life, and I catch myself humming 'Dream in the Night …your books have revealed to me aspects of your special relationship with birds; such beautiful photos as well…Your publications are read to friends who visit me....These, dear SupremeMaster Ching Hai, are my thoughts in which I send my tenderest sentiments towards your radiant personality."
We once again would like to extend our gratitude to Ms. Marie-Jeanne Frédérique for establishing ASBL Fabienne, and for all her heartfelt care and concern for the animals residing in her home. We also would like to send our love to all the wonderful sentient beings living with her.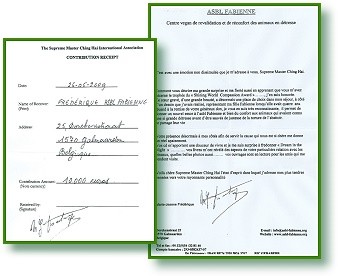 Thank you letter and receipt from Ms. Marie-Jeanne for the €10,000 contribution by Master.