Aulac(Vietnam)
A Compassionate Father with a Golden Heart - Mr. Tống Phước Phúc
By Aulac News Group (Originally in Aulacese) 2009.02.24
For the last five years, Mr. Tống Phước Phúc from the coastal city of Nha Trang, Khánh Hòa province, has opened his home to infants who were either orphaned or whose mothers were too young to take care of them. Through his unconditional sacrifice, he has built a cozy nest full of love for over 80 infants and his private residence has become a lifeline of fatherly love. His noble deeds were recently honored by Supreme Master Ching Hai with a Shining World Compassion Award.
The Award presentation was made by the initiates from Central Âu Lạc (Việt Nam) and held on February 24, Golden Year 6 (2009). In Her personal letter to Mr. Tống, Master wrote, "We are deeply grateful to your noble love in saving the precious lives and building favorable conditions for our babies to enjoy a life of peace and happiness." In addition, a gift of US$10,000 and Master publications were given to Mr. Phúc, who expressed his gratefulness and said humbly, "A swift can't build springtime on its own. Everything I do is arranged by God."
We greatly honor Mr. Tống Phước Phúc and hope that your golden heart and compassionate work will become an inspiration for all people in the world. We pray that Heaven will always bless you and your children with a life of peace and happiness.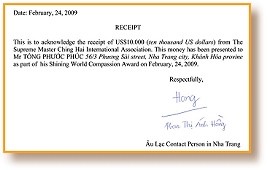 Receipt of US$10,000 for Mr. Tống Phước Phúc