Aulac(Vietnam)
Father Nguyễn Thực - A Candle Burns Bright for the Blind
By Âu Lạc News Group (Originally in Aulacese) 2008.12.01
Father Nguyễn Thực, the head priest of Hà Đông parish, and his Catholic devotees have always practiced virtuous deeds in order to fulfill Christ's teaching: "Anything you do for one of the weakest, the most depraved, you do for Me." In order to alleviate some of the hardships faced by the locals without eyesight, he compassionately founded the Friends of the Blind Association and together with his parish members has quietly provided rice for them over the past eight years. The contributions, though modest, are offered with deep brotherly love in hopes of lifting the people's spirits. As news of his noble deeds travel far and wide, he finds support coming from other parishes and organizations.
Father Thực and his parish members with the gift of love from our Association.
Touched by the selfless service and unconditional love of Father Thực and his parish, Supreme Master Ching Hai bestowed on them the Shining World Compassion Award, which was presented on December 1, Golden Year 5 (2008), by one of our Association members. Father Thực was given a beautiful crystal plaque engraved with nine hearts, a check of US$5,000, and a thank-you letter from Supreme Master as well as Her books and DVDs.
Father Thực thanked Master on behalf of his parish and pledged to "do more work in cooperation with our Aulacese volunteers in serving the society and extending love and services to the poor in Âu Lạc." He added that the US$5,000 gift would be dedicated to supporting the visually impaired and the needs of his parish. Father Thực shared his dream that every Aulacese in the country as well as abroad would continue working to bring peace and happiness to others.
May Christ's blessing and love be bestowed upon all people around the world and may Father's wishes become a reality.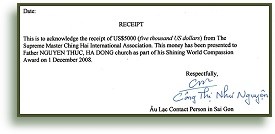 Receipt of US$5,000 for Father Thực