South_Africa
Dr. Fanie du Toit - The Institute for Justice and Reconciliation of South Africa: A Ray of Hope and Love
By Cape Town News Group, South Africa (Originally in English)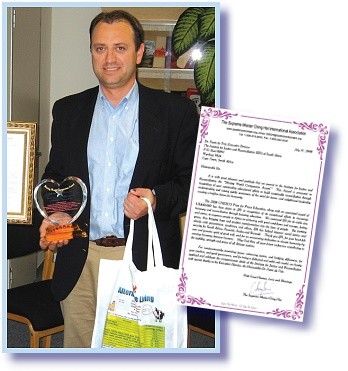 South Africa was ready to begin a new era of solidarity after an open forum into previous apartheid practices had been completed in 1998 by the Truth and Reconciliation Commission. In order to further promote reconciliation, transitional justice and democratic nation-building in the country, Mr. Charles Villa-Vicencio, Dr. Fanie du Toit and others sharing the same ideal came together to establish the Institute for Justice and Reconciliation (IJR) of South Africa in May 2000. The IJR, now headed by Dr. du Toit, consists of about 20 members and has evolved as a think tank, facilitating discussions between different groups of people, developing solutions and publishing its audits, surveys and analyses. Initiatives also take place in schools to bring about progressive ideas and values and partnerships are made with other regions to allow the exchange of key lessons and best practices. Hundreds of people have participated in its Community Healing Training Course in the most vulnerable regions. The Institute also works closely with governments and academics to help improve justice and security for people in South Africa.
In recognition of its exceptional efforts to bring about peace and understanding through education and to heal and reconcile the pain of South Africa after her racially segregated past, the IJR was awarded the Prize for Peace Education by the United Nations Educational, Scientific and Cultural Organization in September Golden Year 5 (2008). Then on October 31, which happened to be Dr. du Toit's birthday, IJR was given the Shining World Compassion Award by our Association members, on behalf of Supreme Master Ching Hai. Dr. du Toit expressed his sincere thanks and appreciation to Master for the Award, and gifts, Her lofty aims and ideals and for orchestrating a positive network around the globe.
Thank you, Dr. du Toit and the Institute for Justice and Reconciliation, for your tireless endeavors to foster and promote peace and harmony in a country rich and diverse in culture, language and human resources.
Reference: http://www.justice.gov.za/trc/index.html