United States of America
Dr. Jonathan Patz - A Visionary Sustainable Public Health Scientist
By Illinois News Group, USA (Originally in English)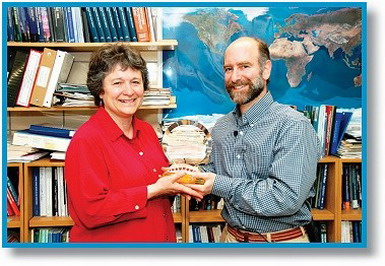 Dr. Jonathan Patz and his wife
On April 24, Golden Year 6 (2009), on behalf of Supreme Master Ching Hai, the Illinois Center News Team went to Madison, Wisconsin, to present the Shining World Hero Award to an excellent environmental health scientist, Dr. Jonathan Patz. He is an associate professor of Environmental Studies and Population Health Sciences at the University of Wisconsin-Madison, and also a lead author of four reports from the United Nations Intergovernmental Panel on Climate Change (IPCC).
In March of last year, in an interview for Supreme Master Television, Dr. Patz shared alarming information regarding the heightened health issues borne out of global warming. Passionately responding to the shocking increase in global epidemics, he has dedicated his life and work to changing the way people live. The Award was presented in recognition of his outstanding efforts and enlightened leadership in creating a sustainable future through his exemplary vision for public health.
During the interview with our Association members following the presentation at the university, Dr. Patz stated that it appears that global warming is happening at a pace more rapid than first reported and this causes an increasing threat to environmental health. He said that the public is getting the message and doing something; however, for there to be an effective response to global warming, people would have to consider changing to a vegetarian diet. He expressed his gratitude to Master and Supreme Master Television for communicating the science and urgency of climate change as well as its sustainable solutions.
Dr. Patz was very appreciative of receiving the Award, Master's letter, the hero jacket and many other gifts. Looking at his wife, who was present at the ceremony, he even jokingly said that he was not sure if he wanted to share the vegan cake made especially for him. We thank Dr. Patz for waking us up from our complacency, and for encouraging and inspiring all to adopt the more ecological and sustainable plant-based diet for environmental and human health.