United States of America
Police Officer Mark Krutell - Police Officer's Fast Action Saves Life
By Michigan News Group, USA (Originally in English)
"I happened to be at the right place at the right time" was the humble remark of Police Officer Mark Krutell, reflecting on his actions that saved the life of an unconscious man he pulled out of a smoke-filled car just seconds before it burst into flames. The Clinton Township Police Officer was patrolling on duty when he saw a smoking car with flames coming from under the hood and heard screams for help from people nearby. Without hesitation, Officer Krutell ran to the automobile, broke the window and, after several attempts, unlocked the car door. Unable to see in the dense smoke, he reached into the car and pulled out the driver who had lost consciousness due to a medical condition. Seconds later, the car exploded and was consumed by flames. The man was taken to a hospital and ultimately recovered.
In recognition of his selfless assistance, loving life-saving action, and valiantly ensuring the public's wellbeing and safety, Officer Mark Krutell was presented with the Life Saving Award from Police Chief Fred Posavetz and the Shining World Hero Award from Supreme Master Ching Hai. The ceremonies took place at the Clinton Township Board of Trustees Meeting on June 15, Golden Year 6 (2009), in front of the Board members and an audience of about 200 people, including Mr. Krutell's wife and children. The event is now on Clinton Township's permanent Board records.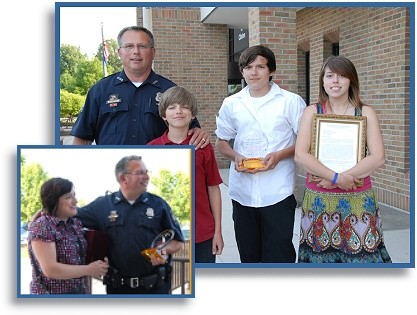 In addition to the crystal plaque, a golden, framed thank-you letter signed by Supreme Master Ching Hai was presented by our Association members. Officer Krutell also received gifts of Master's publications and a Hero Jacket. He expressed his sincere thanks to Supreme Master Ching Hai and he and his family were all delighted for the honor he had received. A family man at heart, Officer Mark Krutell embraced his children and kissed his wife, saying, "This is why I do it. This is why I do my job!" We are grateful to have in our world such an angel of protection with exceptional courage, skill, dedication, and extraordinary care and concern, beyond the call of duty.
Reference:
http://edition.cnn.com/video/#/video/us/2009/04/09/santia.mi.burning.car.rescue.wdiv?iref=24hours