Formosa(Taiwan)
Mayor Lin Jung-Tzer - A Wise Mayor Advocates Going Veg to Halt Global Warming
By Hsinchu News Group, Formosa (Originally in Chinese) 2009.08.11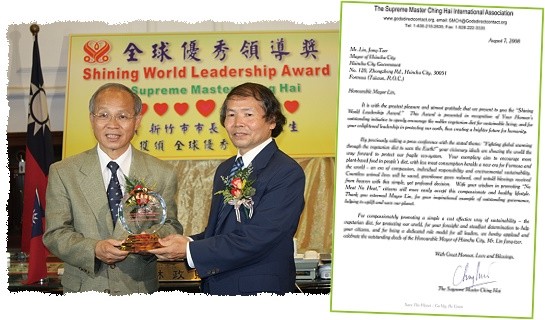 Mayor Lin Jung-Tzer of Hsinchu City (left)
Last year in May, our Association members visited the Hsinchu City Government to share with them the urgent issue of mitigating global warming with an animal-free diet. Mayor Lin Jung Tzer expressed his high esteem and support for our ideal. Soon after that, with assistance from the Mayor and the City Government, our Association convened a "One Million Signature Campaign" press conference under the theme of "The Whole World Go Veg to Stop Global Warming and Save the Planet" at the Hsinchu City Government and the Hsinchu Science Park Association of Industries. In addition to signing the pledge and joining our meaningful event, Mayor Lin encouraged the citizens to do their part in saving the planet by eating less meat and consuming more local fruit and vegetables instead. The earnest support by the Mayor brought to the attention of numerous citizens how the animal-free diet is an effective solution to curb the effects of global warming. To acknowledge the wise leadership of the Mayor, who sets a good example in elevating and preserving our beautiful world, our Association members called on Mayor Lin at his office on August 11, Golden Year 6 (2009), and presented him with the Shining World Leadership Award on behalf of Supreme Master Ching Hai.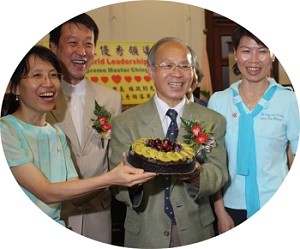 A vegan cake baked by fellow initiates to celebrate Mayor Lin receiving the Award.
Many of the staff members of the City Government were in attendance at the Award Presentation Ceremony. Media reporters from ETTV, The Liberty Times, and others also came to report the event. Mayor Lin expressed his humbleness in receiving the Award as he was merely fulfilling his obligation as a global citizen. He further commented that Supreme Master Ching Hai deserves even more admiration and veneration for Her constant endeavors in educating people, promoting public interests, caring for the environment, and improving the well-being of humanity and animals alike. He then appealed to the media once again to give more coverage on this important issue and thus encouraged people to join the "Be Veg! Go Green! Save the Planet" campaign through practical action. Finally, Mayor Lin Jung Tzer wished Supreme Master Television a Happy 3rd Anniversary, and hoped that our network would continue to broadcast quality TV programs to bring a brighter and beautiful future to the world.