Burundi
Ms. Marguerite Barankitse - Burundi's House of Peace
By Kenya News Group (Originally in French) 2009.03.01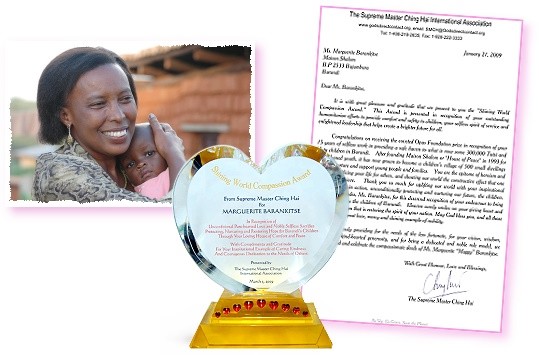 In 1993, during an ethnic conflict in the war-torn country of Burundi in East Africa, Ms. Marguerite Barankitse who worked for the Catholic bishop of Ruyigi managed to rescue 25 orphaned children. She then formed Maison Shalom or "House of Peace" as a refuge for youngsters who have become victims of civil unrest and violence. Since then, Maison Shalom has grown from a humble shelter, to a multifunctional service agency which manages 500 small dwellings, a handful of educational facilities, as well as a hospital with emergency and maternity units. For more than 15 years, Maison Shalom has helped in the healing and support of 30,000 young people and families and has been able to reunite orphaned children with their extended family. In 2008, Ms. Barankitse received the annual Humanitarian Prize of US$1 million from the US-based Opus Prize Foundation for her contribution to society. The following year in February, she was honored with one of the highest distinction awards in France and became known as the "Angel of Burundi."
In recognition of her outstanding humanitarian efforts to provide comfort and safety to children, Supreme Master Ching Hai also bestowed on Ms. Barankitse the Shining World Compassion Award. At the ceremony held in Maison Shalom on March 1, Golden Year 6 (2009), with many guests attending, Ms. Barankitse accepted the beautiful crystal plaque, a check of US$10,000 and an Award letter personally written by Master with great joy and gratitude.
Despite the many awards and honors, Ms. Barankitse has remained ever so humble. In an interview with the BBC, she said, "I don't think I should be given awards, whenever I am told I am being given an award, I am always astonished because I am only doing ordinary work."
Thank you, Ms. Barankitse, you truly deserve this recognition for bringing much needed love and hope to the children of Burundi. Heaven surely smiles on your giving heart and the Maison Shalom that is restoring the spirit of your nation's youth.
Reference:
http://maisonshalom.net/index.php?option=com_content&view=category&layout=blog&id=27&Itemid=44