United Kingdom
Ms. Jo Wilding - The Gift of Laughter
By Surrey News Group, UK (Originally in English)
Ms. Jo Wilding is an English humanitarian activist, lawyer in training, and writer who uses clowning to bring the gift of laughter to children. During several trips to Iraq to deliver medicine to Iraqi children, Ms. Wilding saw the effects of the country's troubles imprinted on their faces. Her caring heart led her to launch the Circus2Iraq project in 2004. Traveling for three months from northern to southern Iraq, Ms. Wilding and six other performers brought laughter, joy, and color to a country ravaged by war. The group put on shows and gave birthday parties that included singing, bubble blowing, magic, and juggling.
To date, Circus2Iraq has also completed three tours to Palestine, Israel, Jordan, and Egypt, making friends with both children and adults. Ms. Wilding also wrote the book Don't Shoot the Clowns, which gives an honest, independent account of life in Iraq and enhances readers' awareness of its people's plight.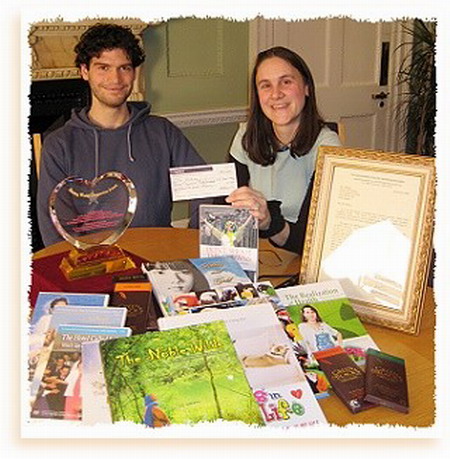 Ms. Jo Wilding (right) and her colleague receiving the Shining World Compassion Award and the financial contribution from Master on behalf of the Circus2Iraq.
Upon hearing of Circus2Iraq's noble, loving deeds, Supreme Master Ching Hai awarded founder Ms. Jo Wilding the Shining World Compassion Award for her outstanding effort to the betterment of children's lives in war-torn parts of the world. The Award was presented on January 30, Golden Year 6 (2009), by Association members in the UK. Supreme Master Ching Hai also contributed US$5,000 to aid in the group's valuable, imaginative work. Ms. Wilding deeply appreciated Master's acknowledgement and monetary gift, saying, "it will go a very long way for our friends in Egypt and in Palestine and in Iraq, and with the children that we work with."
May God bless all those like Ms. Jo Wilding and friends who make the world a happier place.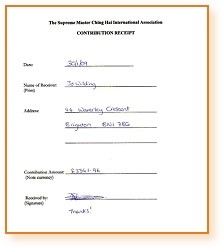 Receipt from Ms. Jo Wilding for the US$5,000 contribution from Master.